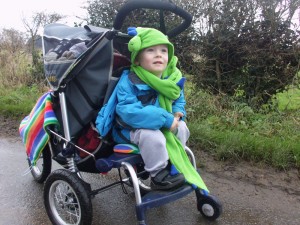 I've finally done it!! Somebody has actually bought something I've made! I listed a buggy board cushion on ebay and a lovely person in Leicestershire has bought it 🙂 I'm so encouraged I've got five more cut out and ready to sew up. 🙂
The idea for the buggy board cushion came about one day when Boy 2 was complaining that his buggy board was not comfortable enough and the bumpy country lanes hurt his little botty. Because of the times of the buses in our little corner of Norfolk, we would take Boy 1 to school and then walk the 2 miles back.
My little pushchair objected to the potholes and grass verges, so I bought a lovely three wheeler for Boy 3, but I hadn't considered that Boy 2 might need something else too.
Anyway, I thought a little cushion would probably do the trick, so, using the shape of the buggy board, I made a pattern from greaseproof paper. I had some rainbow fleece left over from when I made a cosytoes (I accidentally bought too much!) and some polyester filling, so that would make a snuggly, warm little cushion. I needed it to stay attached to the buggy board, so I added two loops of elastic and a couple of buttons.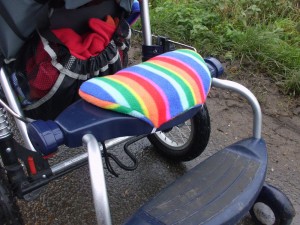 I was pleased with the results and Boy 2 liked it. That would have been the end of it, except that Husband, when he saw it suggested that I made some more and tried to sell them. I made one up and put it on Etsy but it didn't sell and it looked completely out of place in my little shop.
It occured to me a few weeks that Ebay might be the way to go, as there are often similar buggy boards on there.
So I listed it and here we are! Somebody bought it!! I'm slightly closer to buying an expensive pushchair for the baby!
I would always encourage people to have a go at making things, but for anyone who would like to buy a buggy board cushion for a Litaf Seat 2 Go, send me a message and I can let you have one for £8 😉