Here are some ideas for using dried fruit for Christmas decorations.
You might have dried some citrus fruit out in the oven and be wondering what to do with it.
Or you made some with a plan in mind and you've got some left over.
Some of the ideas on the list will need more dried fruit than others. Some will need less. With some of them, you can use other things as well.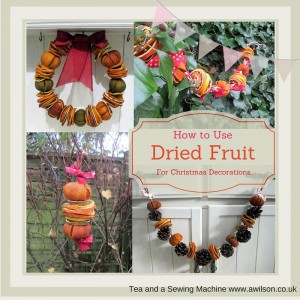 1. Make tree decorations. String whole oranges and slices of fruit onto raffia or ribbon. You could add pine cones or cinnamon sticks too. You can find a tutorial for making them here.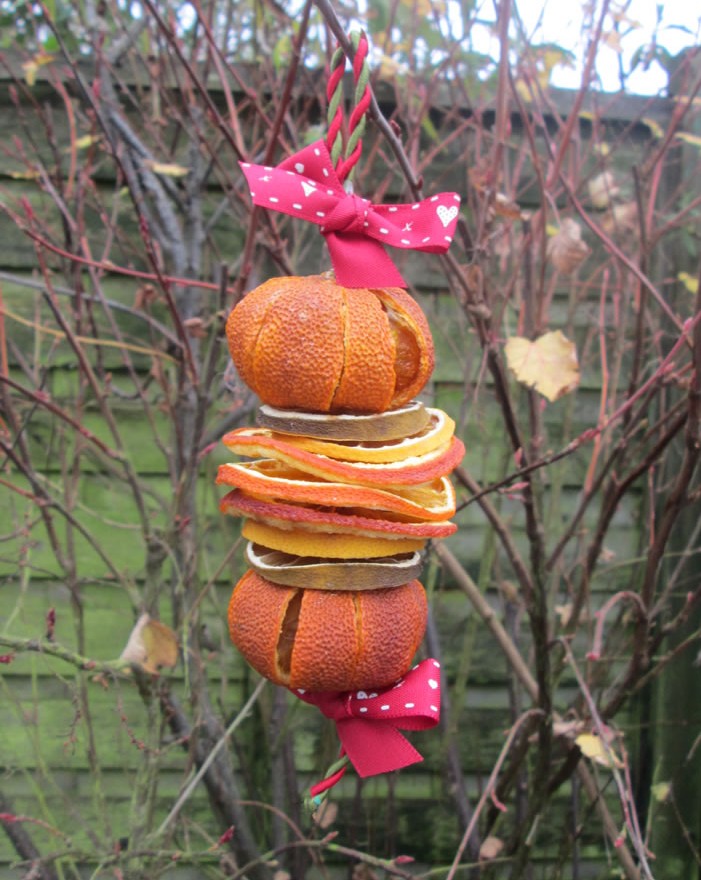 Or as an easy alternative, thread individual slices onto a piece of ribbon, tie the ribbon into a loop and hang them on the tree.
2. Make a garland. This one is made in a similar way to the decorations. Each section is made separately by threading fruit onto rafia and tying a loop at each end. The sections are then tied together with ribbon. You can read the tutorial for this here.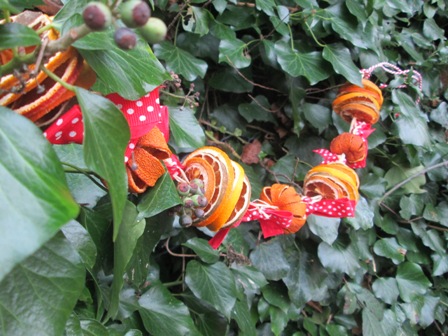 This garland is made in the same way but with a pine cone in between each section. The tutorial for this one can be found here.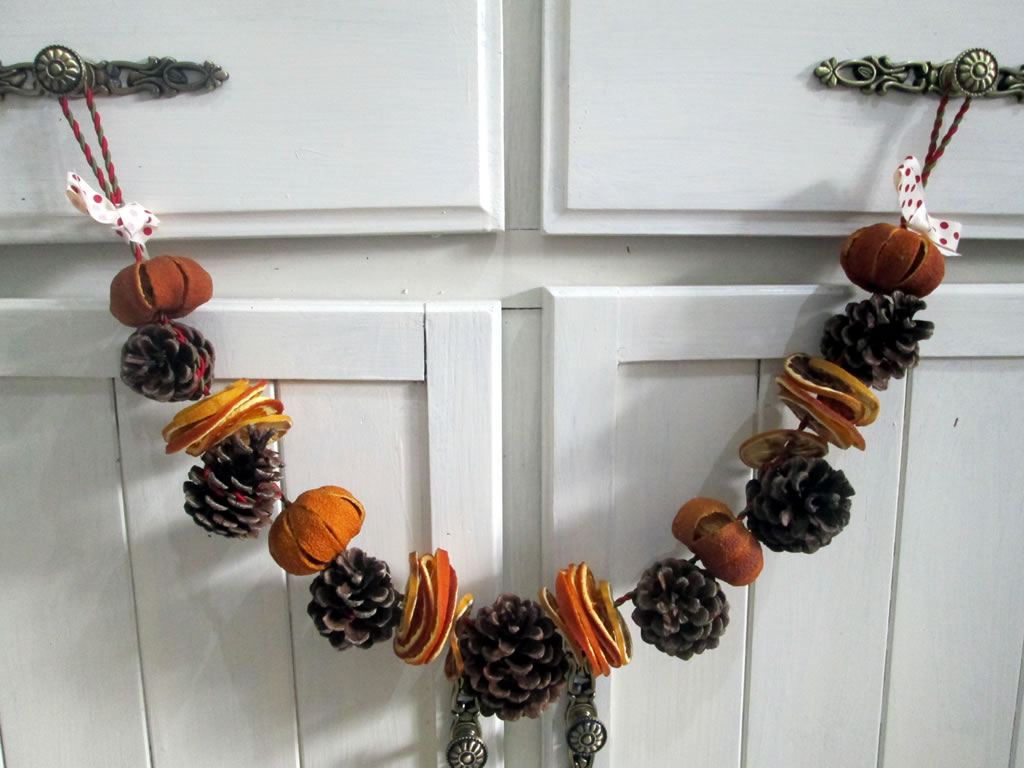 Or for a very quick, easy garland, you could tie slices of orange together with bakers' twine or ribbon.
3. Make a wreath. You do need quite a lot of dried fruit for this!. Thread whole fruit and slices onto a wire coat hanger or thick garden wire, twist the ends together then hide the join with a bow.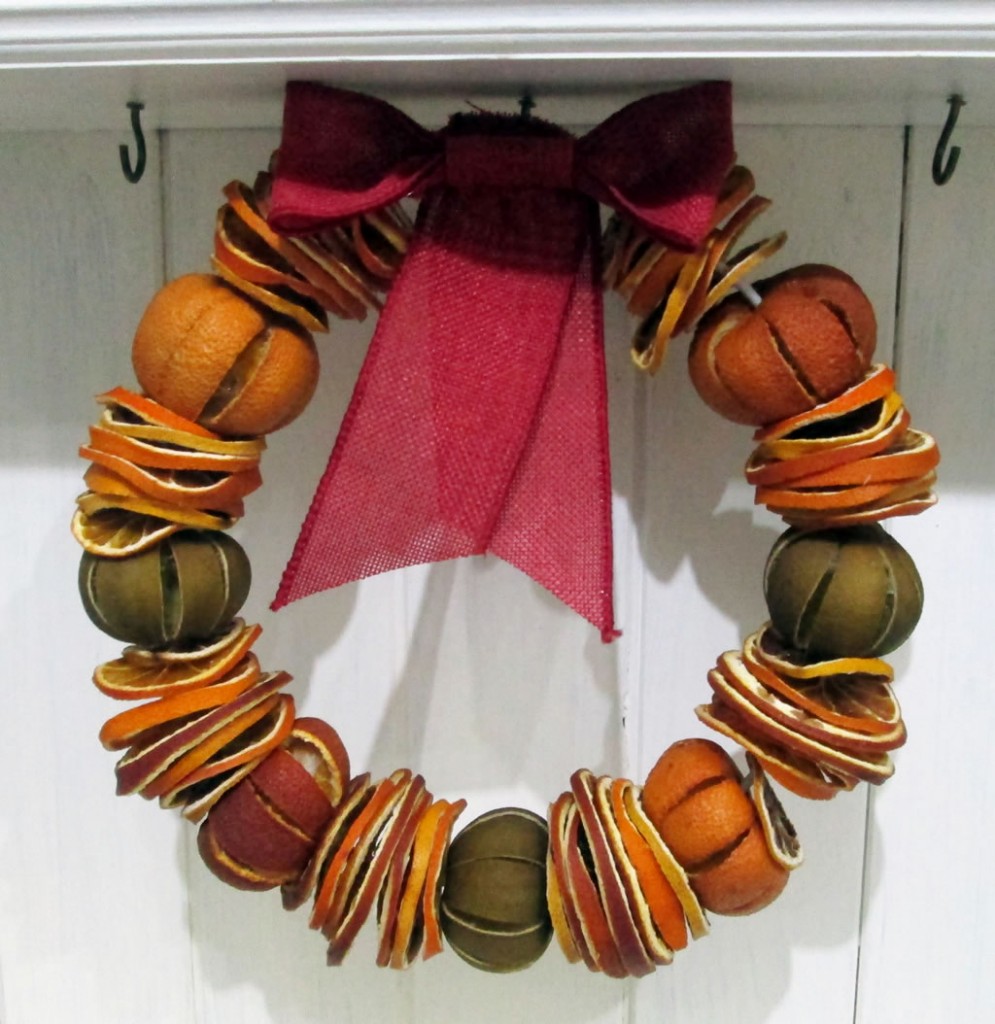 4. Add some dried fruit to a wreath. If you don't have enough fruit to make a whole wreath, you could add some to a wreath you have already either bought or made. Just thread some slices or whole fruit onto florists' wire, twist the ends, then tuck them into the wreath form.
5. Pop dried slices and whole fruit into a glass bowl or vase with pine cones, twigs and cinnamon sticks.
6. Add pine cones and dried fruit to a bowl or jar and put a candle in the middle and you've got an easy last minute centre piece!
What did you do with your dried fruit?