Why Are Pattern Sizes Different to Ready to Wear?
If you've ever made clothes from a pattern, you'll have probably noticed that pattern sizes don't seem to correspond very much with clothes that you might buy on the high street.
I think probably lots of us have experienced this at some point. We've bought a pattern and cut out the pieces assuming that the sizing is going to be the same, only to discover (possibly too late!) that the sizing is all wrong and the thing is too small.
I did this a few years ago when I bought a pattern online. To cut a long story short, I could only find the pattern in sizes 8-14, assumed it would be okay and it wasn't. I let the seams out and abandoned the darts but it was still too small! In the end I patched in some extra fabric.  It was wearable, and I did wear it until recently when I had a hulk moment while lifting Cosmo up and it tore.
How Much Of a Difference is There?
When I made that dress, I was surprised at just how too small it was. The fact that letting the seams out didn't add even nearly enough extra to get it the right size still made me wonder several years later.
Just how much of a difference is there between pattern sizes and ready to wear sizes?
On further investigation, I have discovered that the difference between the same sizes in patterns and ready to wear is huge!
The average size of a woman in the UK is a size 16. With ready to wear clothes, the measurements for a size 16 are approximately:
Bust 41 inches / 104 cm
Waist 33 inches / 85 cm
Hips 43 inches / 108 cm
A size 16 on the back of a pattern is:
Bust 38 inches / 97 cm
Waist 30 inches / 76 cm
Hips 40 inches / 101 cm
As you can see, the measurements on the pattern are at least 7 cm smaller. This is easily going to be the difference between something fitting well and not being able to do it up!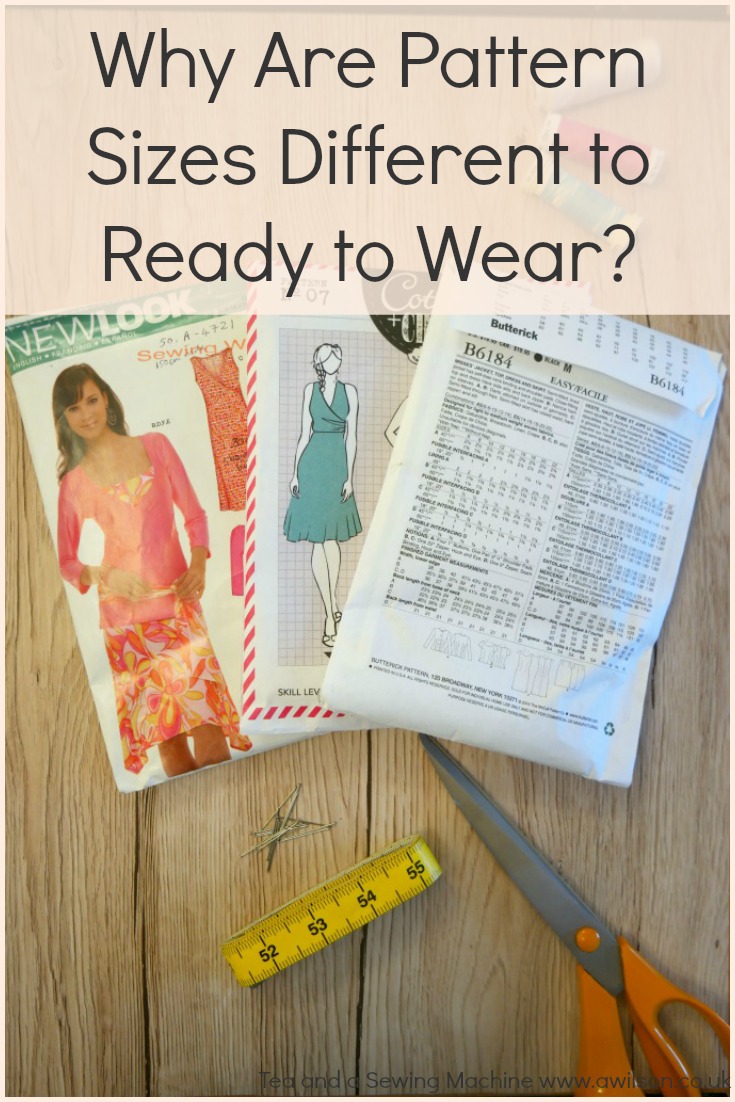 Why Are the Sizes Different?
Standard dress sizes came in during the 1950s. They changed in the 1970s, and as time has gone on, sizes have gradually got larger.
I've seen this referred to as vanity sizing, implying that sizes are larger so that people don't feel bad about being bigger. However, I suspect it has just as much to do with changing body shapes and the average size of women today.
Back in the 1950s, people were not only slimmer, they were generally smaller.
Post war rationing ended in 1954, so a woman who was 30 in 1954 would have spent most of her life living at a time when there was less food. This would have affected not only her weight but her overall growth.
Serious childhood illnesses were much more common, which would also have affected growth.
There were less cars and people walked more. Mums walked their children to school and, without labour saving devices like hoovers and washing machines, housework was a lot more physical. Now, women tend to drive or use public transport to get to a job that may often involve a lot of sitting down.
So people generally are bigger and dress sizes reflect this.
But pattern sizing has not changed in the same way. Although ready to wear sizing has got bigger, pattern sizes have stayed the same.
So a size 16 on a pattern is a 1950s size 16, not a modern size 16!
Why Don't They Just Update the Sizes?
Updating the sizes so that they are more in line with modern dress sizes might make things easier and cause less confusion.
But there are actually good reasons why this hasn't happened.
When I go clothes shopping (not often, I usually have kids in tow which makes it a nightmare!), I actually don't know what is going to fit and what isn't. I could be one size in one shop and a different size in another. Even in the same shop I can't be sure that I'll be the one size!
This is because the sizing isn't standardised.
Here, patterns have an advantage.
Even though the pattern sizing bears no relation to modern day dress sizes, at least they are consistent.
If you are a size 20 according to a pattern, you'll be a size 20 on all the patterns. This is because all pattern sizes are based on one set of measurements. So the problem I had when I bought a pattern online and I wan't sure about the sizing wasn't a problem at all! I could have looked on any pattern and it would have given me the information I needed.
How Do I Get the Right Size Pattern?
To get the pattern in the right size, you just have to ignore the sizes and go by the measurements, and try not to feel depressed if the pattern says you're a size 22! Remember, they didn't have much food thanks to rationing and they would have been shorter as well!
To check your measurements, use a plastic tape measure and measure yourself around the bust, waist and hips. This is easier if you have a friend to help you. Don't measure yourself over your normal clothes. Leggings and a vest top or a fitted t shirt is best.
If you'd like more tips about taking measurements, there's a post about this here.
How Do I Make it Fit?
Even if you check your measurements against those on the back of the pattern, getting things to fit isn't always straightforward. You might find that you're a bit wider round the hips, or generally rounder with less waist (I know about this one!).
If you are more than one size, mark the adjustments on the pattern pieces before you cut them out. If you are a size 16 waist but a size 14 hips, then join the size 16 waist lines to the size 14 hip lines with a pen.
It's important to remember that sizes are just a guide. They don't allow for us all being individuals with different bodies. The best way to make something that fits, however you go about it and whatever size you are, is to keep trying it on and adjust it to fit your own body.