Easy Flower Arrangement
I was recently sent a box full of goodies from the Oasis flower foam people.
As the end of term is fast approaching, I decided to put it to good use and design an easy flower arrangement for my boys' teachers and the cub and scout leaders.
When I was a teacher, I would often receive bunches of flowers from the children at the end of the school year. I still remember a little girl giving me some beautiful red carnations, almost 20 years ago now!
It's lovely to receive flowers, but there's sometimes an issue with where to put them all.
Some of the items in the box of goodies were small blocks of oasis in little trays. So I decided to make some little arrangements using these trays.
Even if you don't have kids at school, they'd make a nice gift for a new mum (or for anybody who likes flowers!) or a centre piece for a summery lunch table.
Here's how to make an easy flower arrangement!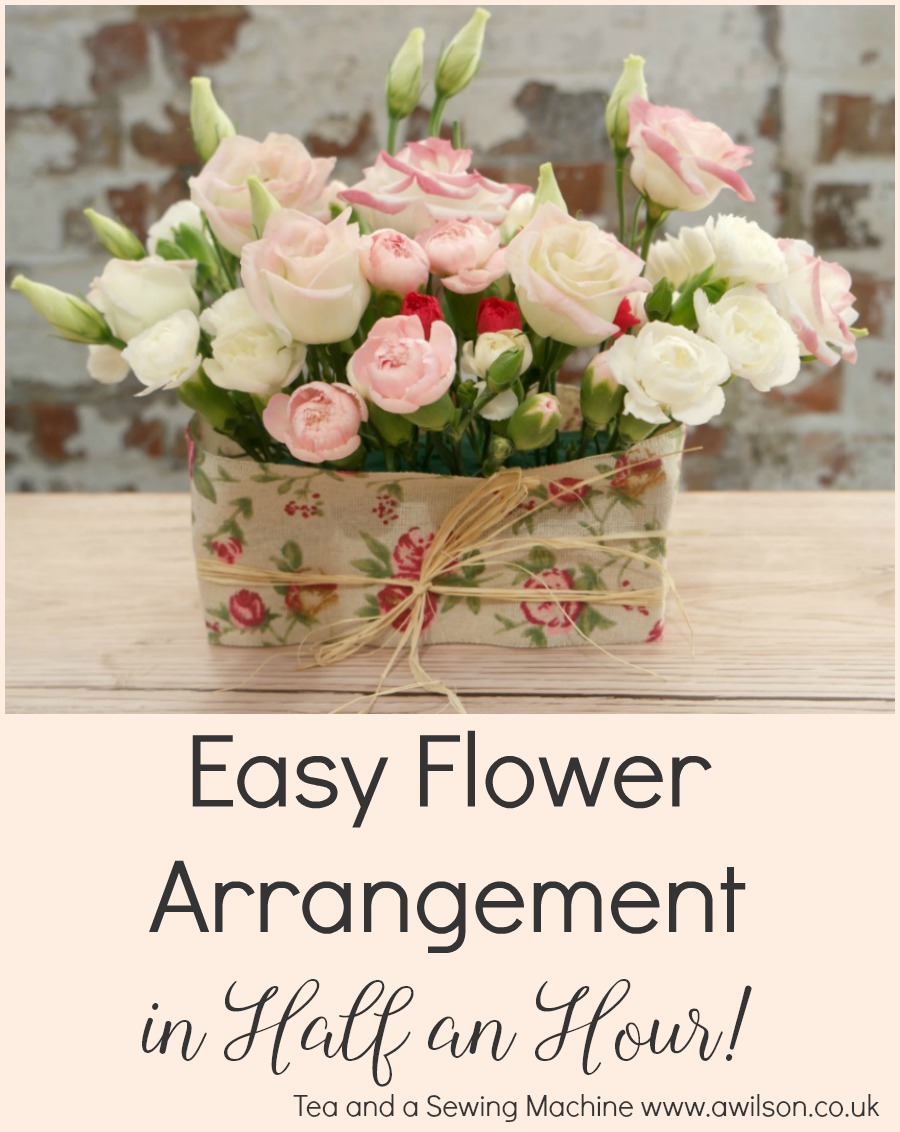 You Will Need
Oasis Neo foam blocks with trays, ribbon (I used this) raffia, flowers.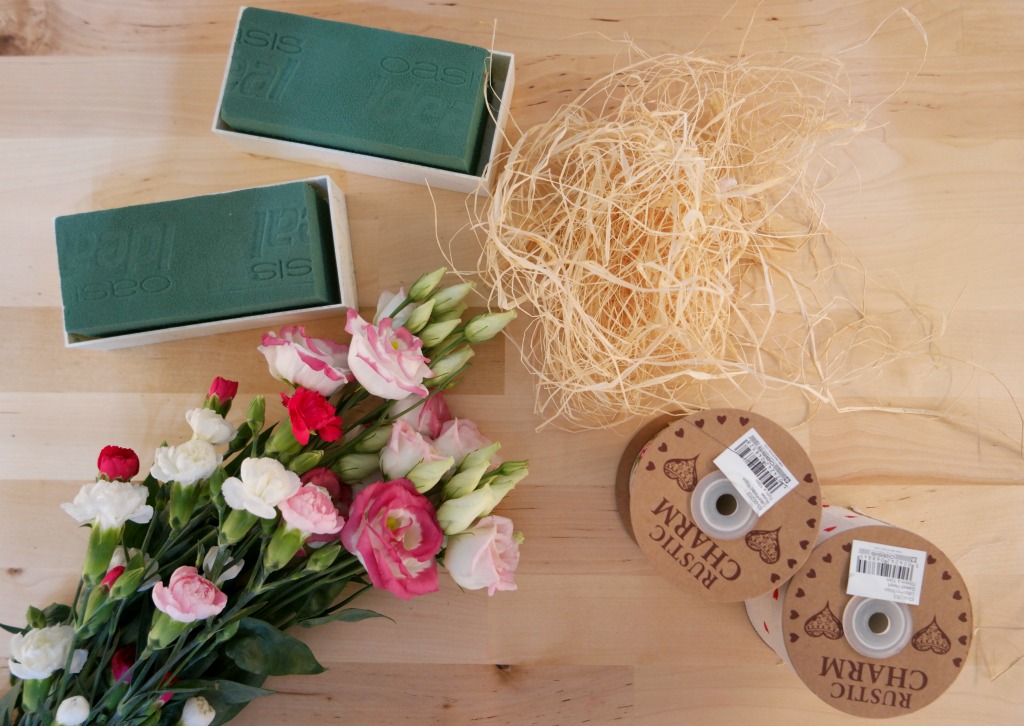 For the flowers I used 3 bunches of supermarket flowers, 2 of carnations and 1 of lisianthus. I made 2 arrangements and had quite a lot left over. I'd have probably got 4 arrangements out of the flowers. If you wanted to use different flowers, I'd recommend using a few larger ones and then some smaller flowers for filling in. If you have a garden, you might have something suitable.
Before You Start
The first thing you'll need to do is soak the foam blocks.
The blocks lift out of the trays and you can pop them in the sink or in a large bowl of cold water.
As the blocks are small, they don't take nearly as long as the full sized blocks. Mine soaked for about half an hour while I did something else, and that was plenty of time. You'll know when they're ready because they'll be darker and heavier, and sinking in the water instead of floating.
Covering the Trays
The ribbon I used was wider than the trays were high, which was fine.
I cut a piece of ribbon the same length as the distance around the tray, plus a bit extra. I then tied some raffia around it to hold it in place.
To make things easier, you could use some double sided tape to hold it in place while you tie the raffia. I had plans to do this, only Aidan (also known as Tape Boy) was the last person to have the double sided tape and it has disappeared.
If you don't have any ribbon you could use tissue paper or wrapping paper, or you could paint the trays with acrylic paint.
Making the Arrangements
Even if you've never done anything like this before, it's quite easy to do!
One thing to remember are that odd numbers of things usually look best. The other thing is to try and keep it looking balanced, so if you put a flower in on one side, you'll need to put one on the other as well.
So here are the steps and you'll have beautiful arrangements in no time!
1. Remove the foam block from the water and pop it back into the tray. Take 7 of your larger flowers and cut the stems so that they are about 20 cm high. Put one in the centre of the block and 2 on either side, a bit further forward. Push the stems a couple of cm into the foam.
2. Push the 4 remaining large flowers into each of the corners. You might like to angle these a bit so that the flowers hang over the edge of the tray.
In the pictures it looks like there are 3 stems pushed into the centre. It was actually one, with a couple of buds attached to the stem where I cut it.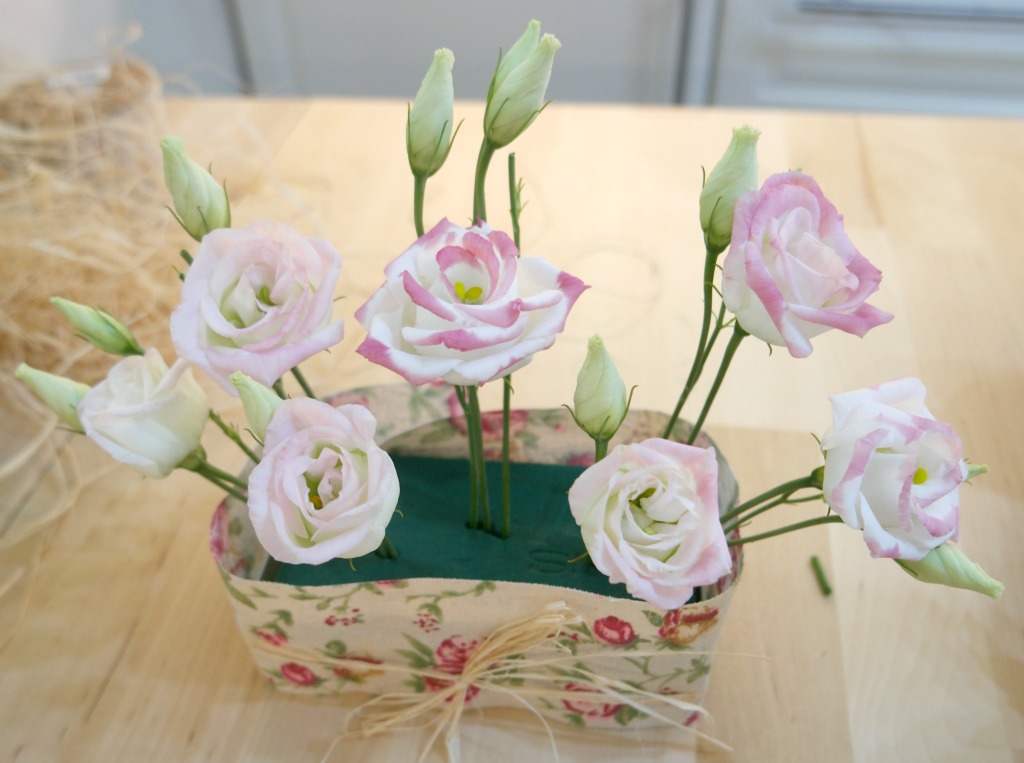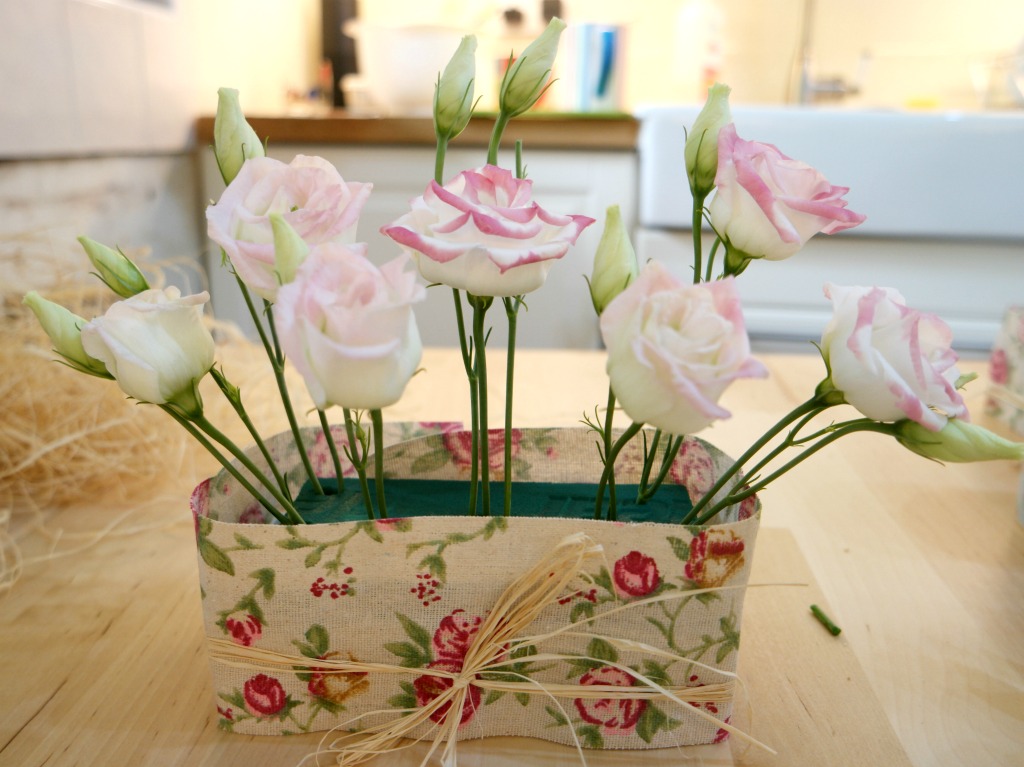 3. Now take your smaller flowers and cut the stems so that they are about 10 cm high. Push these into the foam around the larger flowers.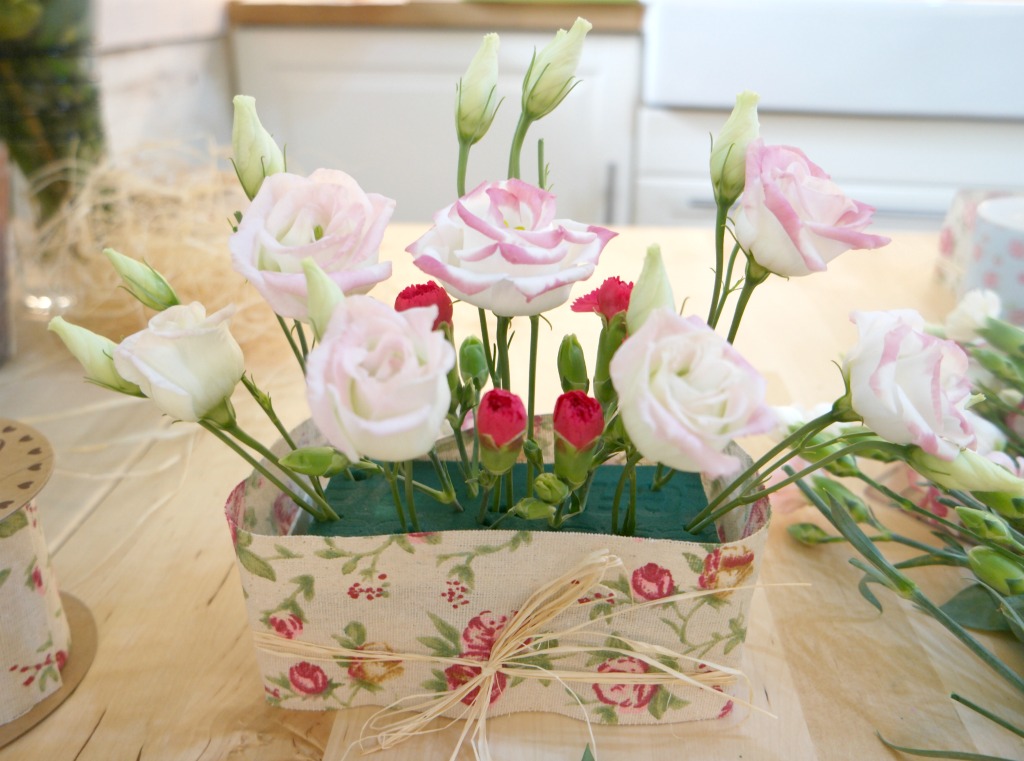 Take care to keep things looking balanced! If you put some on one side, add the same number to the other side.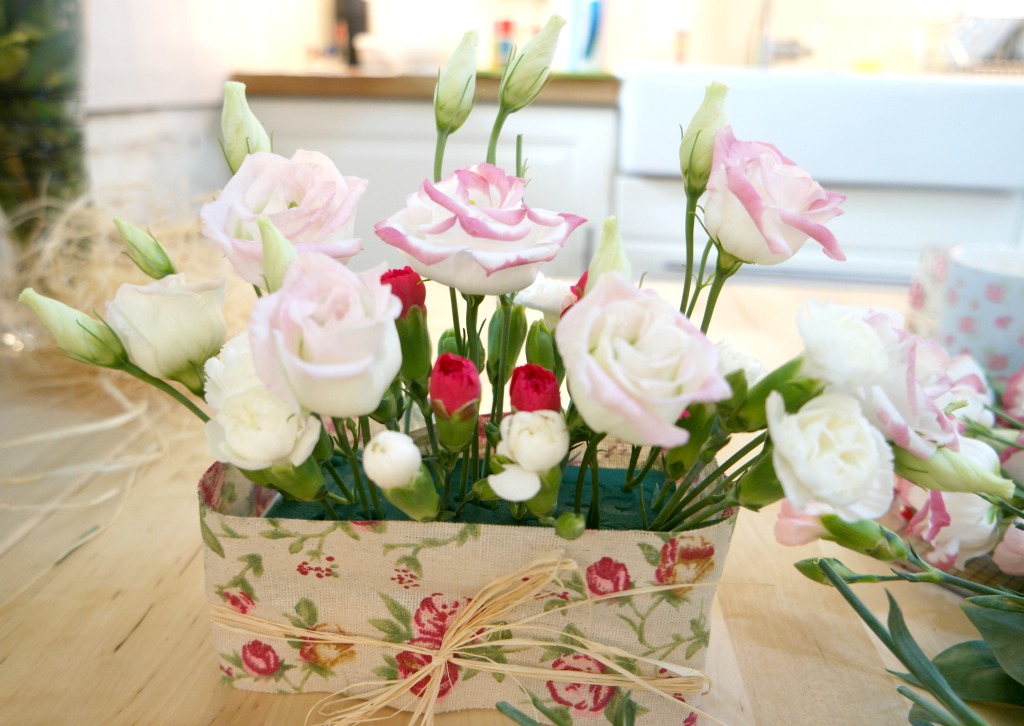 Don't forget the edges and the back!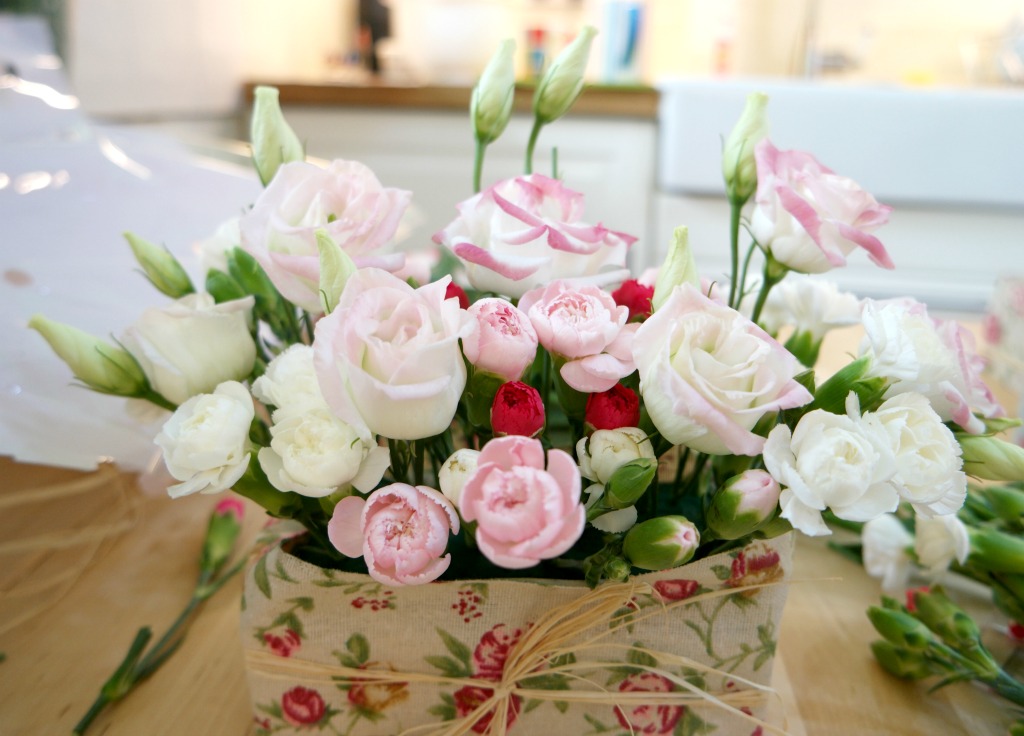 Keep going until the arrangement looks full. The oasis should be difficult to see past the flowers, but don't over do it! Use your judgement to decide when you have enough.
It took me about half an hour to make 2 of this easy flower arrangement, so even if you have a few to do, it should be possible to do them in an evening!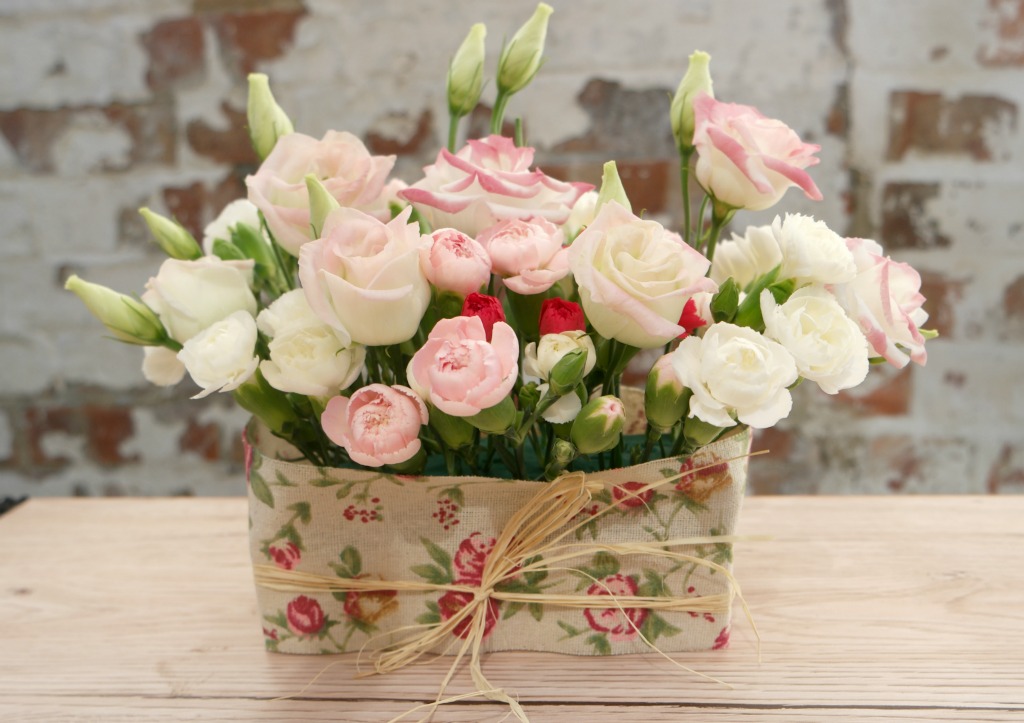 Linking up here.