I have been sewing my own clothes since I was 10 years old and I can honestly say that it is a lot of fun! I love walking down the street in something I have made myself, knowing that I could walk past 1000 people and none of them would be wearing the same as me.
When I was a little girl my mum made all our clothes and her mother sewed for a living! So it was my mum who taught me how to sew and I've gradually honed my skills as the years have passed (there is still some honing to do! 😉 ).
For people who are beginner sewists it can be so difficult to know where to start that it can be overwhelming. So here are 10 ish questions that you might be considering if you are new to sewing, with answers!
Is it hard?
It's not! Seriously, the number of people who look amazed when I tell them I made the thing I am wearing myself, it's crazy! If you can drive a car you can definitely operate a sewing machine. I can't drive and I can operate a sewing machine!
Having said that, keep it simple at least to start with and try stuff out with cheaper fabric first if you are worried.
If it does go wrong, don't give up! This is where having an unpicker is handy. Even experienced sewists have to unpick their work sometimes.
What sort of fabric should I use?
The easiest fabric to work with holds its shape well and isn't too slinky or too stretchy. Cotton and polycotton are good fabrics to use and come in all kinds of colours and prints.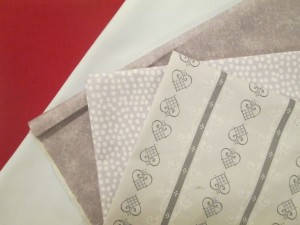 They also have the advantage that if you need to unpick a seam, the old seam wont leave marks on the fabric.
Does the brand of thread I use matter?
Lots of people will tell you that Gutermann threads are the best ones to use but they cost a little bit more. I have used cheaper threads from Lidl and Hobbycraft and although they usually do the job, I have had trouble with the thread breaking on occasion.
What kind of sewing machine should I buy?
It's probably best to avoid the very cheap beginner sewing machines as they are often not great machines and what they can do is very limited.
Equally there is no point in forking out for a massively expensive machine that has a load of features that you probably won't use.
A decent mid range machine is the way to go. I have a Silver e8000 which according to Husband (who bought it for me!) is the machine they use at colleges. Before that I had a 1970s Singer!
The functions I use the most are straight stitch in various lengths, zigzags, overlocking style edging, button holes and the stitch for knits. I haven't really used any of the decorative sitiches, although I might if I had girls instead of boys!
What should I make first?
Stick with something simple to start with. A circle or A line skirt would be a good way in. You can find a tutorial for making a circle skirt here!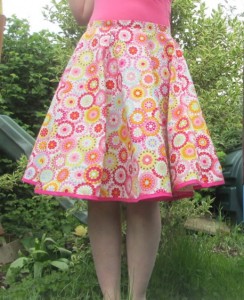 Which patterns should I use?
Patterns can be unbelievably confusing and being able to make sense of them can be a skill in itself! Although I haven't used them myself, I have a friend who always says that the Colette patterns are very good and very clear.
The problem I often find with patterns that claim to be easy is that, in my experience, you usually end up with something shapeless!
It's perfectly possible to make things without using a pattern. You can find plenty of tutorials here on my blog and there are lots elsewhere on the web too.
What skills are useful to know?
Knowing how to attach a waistband is useful and the same technique can be applied to using bias binding to finish armholes, necklines and hems . You can read about attaching a waistband and using bias binding to finish a hem in this circle skirt tutorial, and finishing armholes and a neckline in this dress tutorial.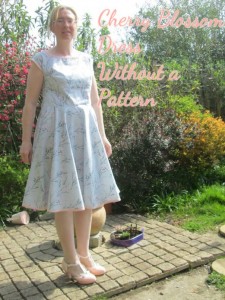 Being able to sew in a zip is also handy. You can find a tutorial for doing that here.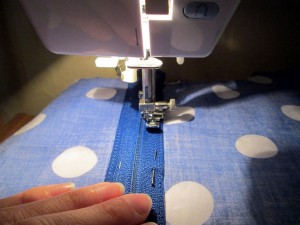 Knowing how to and where to sew darts can be the difference between making something that fits well and something that just ends up taking up space in your wardrobe.
Why are my stitches are loopy?
Check the tension on your sewing machine. 4 is usally a good number for most fabrics. If it is on 4 and still the stitches are loopy, adjust the tension dial.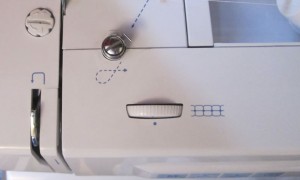 If the loops are at the bottom, increase it.
If the loops are at the top, decrease it.
If that does not work, take the bobbin out and give the bobbin area a clean with a dry paint brush, then rethread the machine.
Why does the thing I've made not fit?
If you are using a pattern, do not be fooled into thinking that the size guide on the back bears any relation at all to normal dress sizes.
Measure yourself with a tape measure and check your measurements against the sizes on the back of the packet.
Make sure that when you are sewing up, you follow the guidance about how much to allow for the seam allowance.
The surest way to end up with something that fits is to keep trying it on.
If you have already made it and it's too big, try taking it in. Put the garment on inside out and pin the side seams. If there are darts, you might need to take those in too.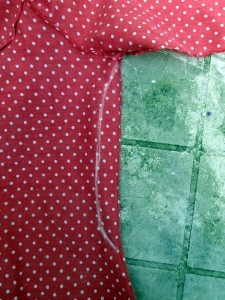 If it is too small, unfortunately that is harder to fix. You might be able to let the seams out and darts if there is enough fabric. If it is still to tight, you might have to consider upcycling it into something else.
The thing I made is shapeless. How do I fix it?
If it is shapeless, it is probably because it doesn't fit very well. The way to fix this is to try it on inside out and pin the seams so that it is a closer fit. If the seams are fine but it is baggy in other places, try adding some darts. You can read about darts here in this post, A Guide to Pattern Pieces.
If none of that works, you might have to get inventive! A belt? Or maybe you'll just have to cut your losses and turn it into something else.
You can read about how I turned a shapeless disaster of a dress into a wearable skirt here.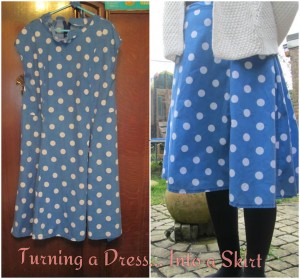 Here's a bonus one!
Why does the thing I made not hang right?
In order for clothes to hang right, the grain needs to be straight on the up and down lines of the pieces. So is you are cutting out a sleeve, the line running from shoulder to wrist should run parallel with the selvedge (the woven edges on each side of the fabric). With a top or a bodice, the grain should run parallel with the centre line. Skirts are the same, the grain needs to run up and down the centre. If you are cutting out a skirt piece on the fold, the folded edge will usually be on the grain.
And here's another bonus one!
I want to make my own stuff without using a pattern. Where do I start?
The first thing you will need to do is take your measurements and record them somewhere.
Starting with something simple is a good place to begin, like a circle skirt or a simple top.
Identify clothes in your wardrobe and on the internet that you like. Draw a sketch and try to come up with a plan for how you will make it. Keep it simple and if you are worried, try practising with some cheaper or old fabric first.
For more helpful sewing tips, you might like this post: 25 Great Tips for Sewing Clothes Without a Pattern.