Making handmade gifts for friends and family at Christmas is a lovely thing to do, but how do you go about it without driving yourself insane?
One option is to start early. I know people who like to start on Christmas at the end of the summer, whether they are making gifts or buying them. The problem with doing this is that it is hard to feel Christmassy when we're enjoying early autumn and it's still sunny and warm. It's also difficult to sustain enthusiasm for Christmas if you've already been going for several months.
A second option is to have a look at all the stuff you have made over the last year and see if you could give any of those as Christmas presents.
The drawback with this is that you might not have enough gifts or you might not have the right kind of stuff for certain people.
So option 3 is to find a list of some easy handmade gift ideas that don't take ages to make or cost a fortune. People, read on, because here is that list!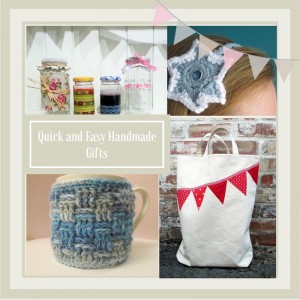 10 Quick and Easy Handmade Gift Ideas
1. Shopping Bags
Incredibly quick and easy to make, you could run up a several in an evening.
To make them a bit more special, you could decorate them (I decorated mine with bunting!) or use several different fabrics. Adding ribbon or lace trim is an easy and quick way to jazz them up.
You don't have to stick to shopping bag size either. Smaller ones would make good lunch bags. You could make several of different sizes in co-ordinating fabrics. Put a drawing pad and some crayons in one and you've got a nice present for a child which won't require batteries or play an annoying tune.
A tutorial for a shopping bag can be found here.
2. A Crocheted Mug Cosy
I made this one in an evening, including coming up with the pattern from scratch. If you are quick at crocheting, you could probably make 2 or 3 in an evening.
Or if the person is a crocheter themselves, how about a kit so that they can make their own?
3. A Kindle Sleeve
I find that kindle sleeves are rather like bags. After a bit I get bored and want a change.
This kindle sleeve is fairly quick and easy; the quilting does take a bit of time though. If you wanted to skip the quilting, you could swap the wadding for fleece, which would give you a sleeve that had the desired squodginess but without the time consuming quilting.
4. A Crayon Roll
Don't be put off, these are not just for crayons!
Pencils, paint brushes, make up brushes, crochet hooks, screwdrivers, basically anything that somebody might have several of that could be stuffed into a series of little pockets and then rolled up.
This is the kind of thing that can look very different depending on the fabric you use.
A tutorial for making a crayon roll can be found here.
5. A Crocheted Flower Hairband or Bracelet
These would probably make a nice gift for a tween aged girl.
You can find tutorials for making crocheted flowers and more ideas for using them here.
6. A Circle Skirt
These are unbelievably easy to make, but you will need access to the recipient's measurements.
If you decide to make one for a little girl, how about making a matching one for her favourite dolly or teddy?
Full instructions can be found here.
7. A Purse
These can be as easy or as complex as you like. Obviously adding pockets or embellishing the front will take longer.
This little purse doesn't need anything extra as the fabric is so beautiful and the lace zip is decorative as well as functional.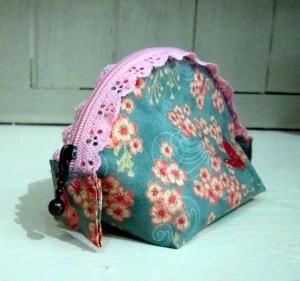 This purse has an appliqued flower on the front and a pocket on the inside, but you could always leave those out. If you didn't want to make your own pattern for the appliqued flower purse, you can buy a pattern here.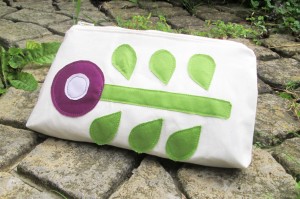 Or for a very easy, quick little purse, try this button purse.
8. A Water Bottle Carrier
This makes a nice gift for a child, but adults who enjoy day trips and long walks would probably appreciate one too.
You can find a tutorial for a water bottle carrier here.
As with the kindle sleeve, the quilting can take a while, so to save time, you could replace the wadding with fleece and skip the quilting.
9. A Phone Cosy
Chunky yarn is great for quick projects!
This phone cosy is very quick to make and the cable on one side gives it an interesting texture.
If sewing is more your thing, you could adapt the kindle sleeve to fit a phone.
10. Never Underestimate the Power of the Jar
Don't drink out of them. No. That's weird. Decorate them and put stuff in them.
Jam (decorate the jars afterwards!), cookie or brownie ingredients, homemade bath salts (there's a nice recipe here), a sewing kit, mini highlighters and other little stationery items, mini cookie cutters and a ball of playdough. The only limit is your imagination! Or Google.
To make the jars special, you can decorate them. There are some ideas for doing this here.
And a bonus one!
11. Dried Fruit
I know this sounds bonkers, bear with me.
Citrus fruit dried out in the oven can be used to make all sorts of decorations.
In the past I have given tree decorations and garlands to people whom I might otherwise have given chocolates or wine.
I always worry about those kinds of gifts in case somebody is on a diet/ isn't much or a drinker/ only drinks red etc.
If the recipient is crafty, you might like to just give them the fruit and some suggestions as to what they could make with it.
You can find instructions for drying citrus fruit here, instructions for making garlands here and here and instructions for making decorations here.
What would you add to the list?