I was recently inspired by WeWork to write about my creative workspace. WeWork is a company based in New York that provides inspiring office spaces. They've recently opened some beautiful office space in London, but they've also got shared office space in locations all over the world!
When I agreed to do this, my first thought was, "Well, it had better be a Pinterest roundup then!" as my tiny corner in my living room is rather humble.
I changed my mind.
Although the Pinterest things are beautiful, they do not represent reality for most people, those of us with kids, messy husbands, pets and out of control craft habits.
So in the interests of staying real, encouraging you all and not pretending that I live in some kind of parallel Pinterest universe, here is where I do my sewing, making and blogging!
*** DISCLAIMER: I tidied up first! ***
Sewing
This is the little corner of my living room where my sewing machine lives.
As those of you who sew will know, being able to leave your sewing machine out makes a huge difference to how much sewing you do. It means that if you have 10 minutes you can do a little bit more on a project you are working on. If you have to get it out then pack it all away again, that can take 10 minutes!
Some new seating arranged differently freed up that corner so I was able to bag it for my sewing machine!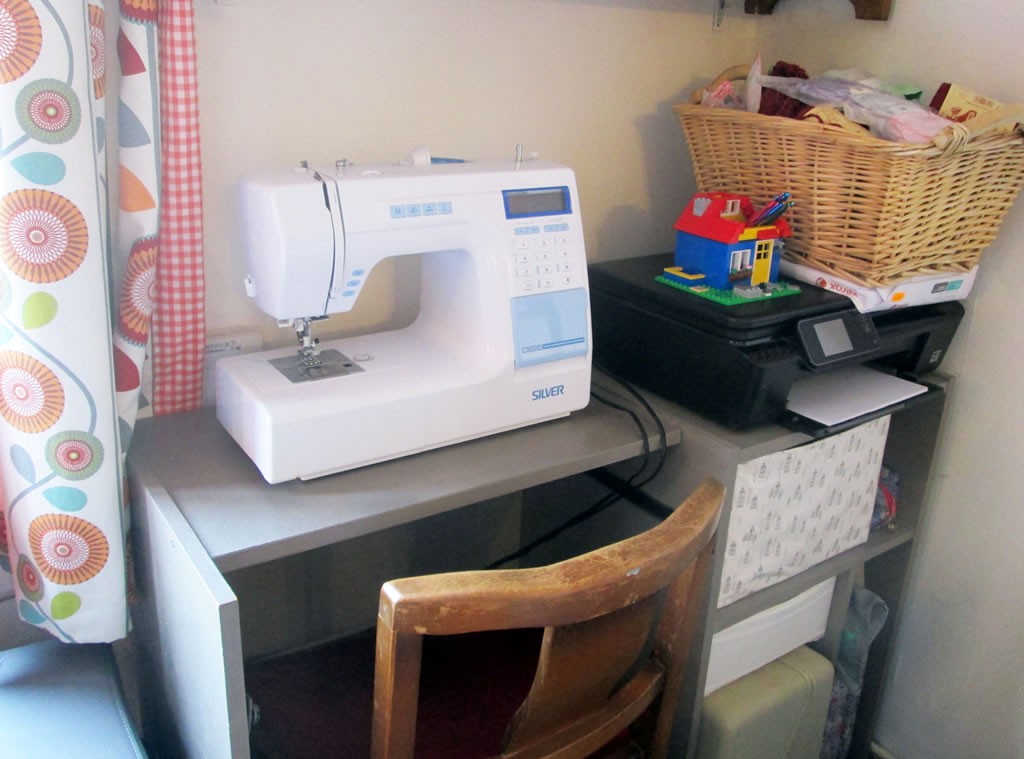 The desk is a computer desk that we bought from Ikea about 15 years ago. Laptops had made the computer desk redundant so it was hidden away upstairs, in bits. It was also an unattractive shade of orange, but couple of coats of Annie Sloan paint soon put that right!
As you can see, my sewing machine does still have to share with the printer.
The chair is one that somebody gave us a long time ago. It was going to be thrown out. I have plans to paint it to match the desk but I haven't got round to it.
The basket became free after a sort out and the large drawer is actually a cardboard box covered in paper.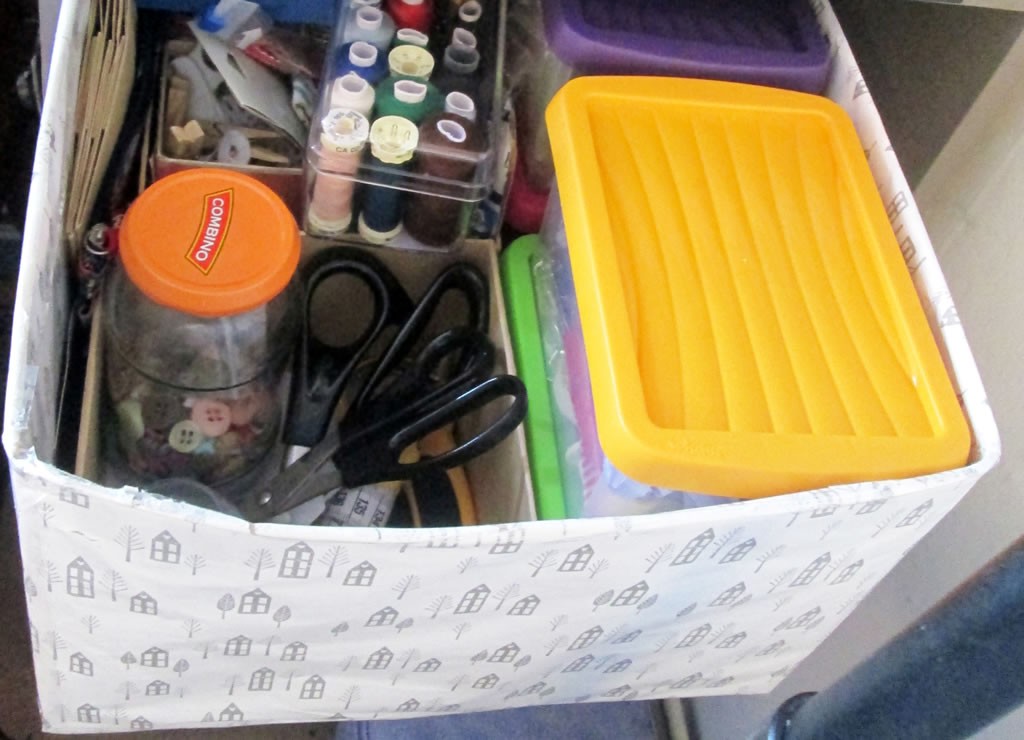 The draw below is a fabric storage box, also bought from Ikea a few years ago.
In the bottom of the desk is my old sewing machine, an elderly Singer that was retired when I got my new one. The folder contains patterns that I have made. I would like to say there is some kind of organisation in the folder but there is not.
So I've got my sewing machine and my bits and bobs to hand!
Making
When I'm cutting out or making something that doesn't require the sewing machine but does call for a level service (ie not my lap!) I use the dining table. Our dining table is also in the living room as we don't have a separate dining room and there is a piano in the kitchen where a table might go.
As well for as eating and making stuff, the table is used for homework, playdough and Boy 2's science experiments. The curious things in the jars on the table are sodium bicarbonate stalactites, an egg having its shell dissolved in vinegar and some kind of green slime.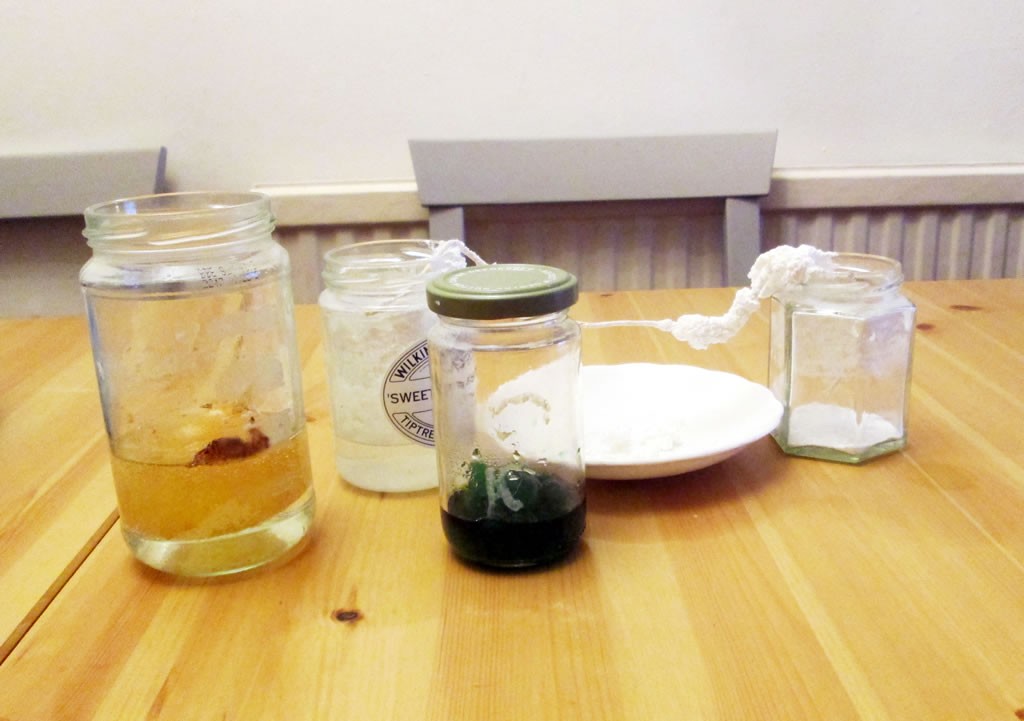 It gets cluttered quite quickly, especially during the week when we don't need the whole table at mealtimes. Stuff gets shoved down to one end and I have a tidy up on Sundays before lunch.
Blogging
I read somewhere a while ago that for writing (I'm a contributor for a sewing magazine as well as a blogger) that you should have a desk in a designated area. I took this on board and sorted out a little corner of the utility room between the boiler and the washing machine.
I've since decided that some rules are maybe made to be broken and perhaps this is one of them!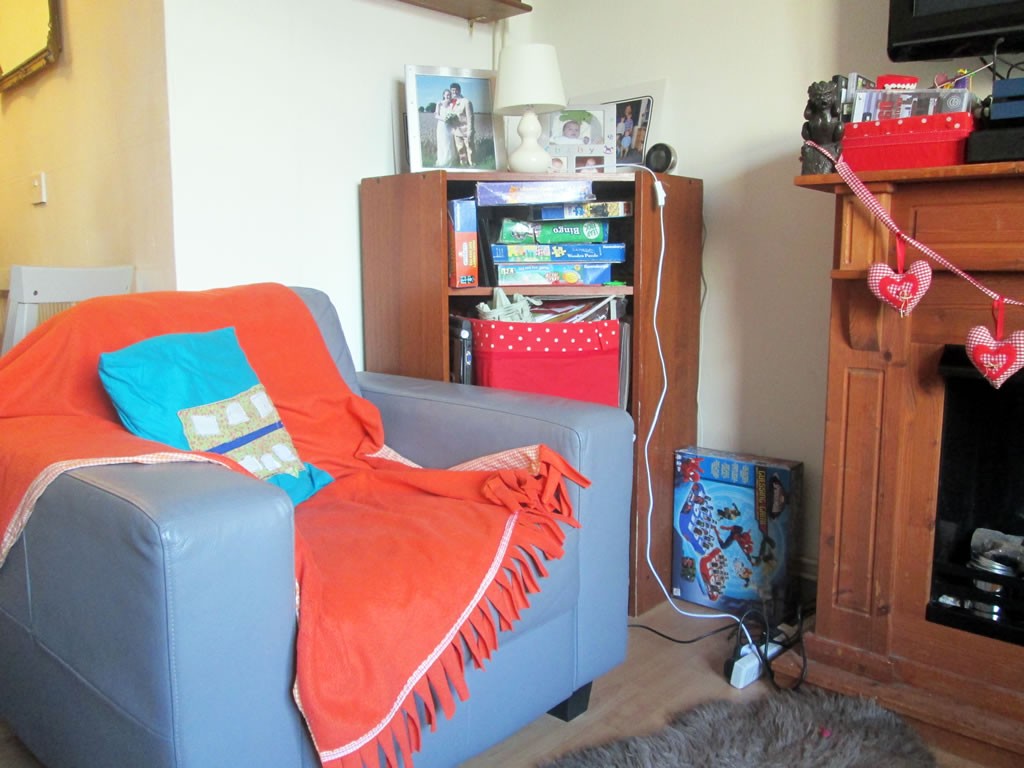 I do most of my blogging in this armchair with the laptop on my lap. It doesn't cause any problems as I'm usually beavering away in the early morning while everyone else is still in bed, or in the evening.
I have a cosy throw (you can read the tutorial for making one here) and Boy 1 made the cushion. There's a spot for my cup of tea, there's a lamp and it's close to the fire. If I was sitting at a desk and I was cold it would not help my productivity. Being comfortable and warm does!
What I Like About My Creative Workspace
It's not as pretty as the ones on Pinterest, but I like it anyway. These are the things I like about it.
I can leave my sewing machine out meaning that I can sew whenever I have a few minutes and not necessarily a big block of time.
The desk didn't cost anything except for the paint because we had it already.
The storage was mostly free or it was stuff we had already.
The armchair is comfy and it's in a warm and cosy spot.
The table is nice and big and close to the armchair and the sewing machine.
Best of all though, it means that I can do my stuff with my family around me, which I actually prefer to being shut up away in a different room somewhere.
Tips For Finding Your Own Creative Workspace
It can be very difficult finding somewhere to make stuff, especially if you live in a small house and you have a family, and it can be expensive kitting out a craft room.
Here are some tips if you want to set up your own creative workspace but don't know where to start!
Identify an area in your house that is underused. It doesn't need to be a whole room! Try under the stairs, utility room, hallway, a corner in a bedroom.
Consider rearranging some furniture to make some space.
If you need a desk or a table for a sewing machine, look at what you have already. Even if it's not perfect, will it do? Or could you adapt it?
Cover cardboard boxes in pretty paper or fabric to make storage boxes. Or you could sew some!
If you're a blogger, cosy up an armchair with a lamp, a throw and a couple of cushions and mark it as yours by plonking your laptop on it.
If you have to clear things away, break a project down into bitesized chunks so that you can still do a bit when you have a few minutes.
Where do you make stuff? Do you like it or have you got plans to change it?