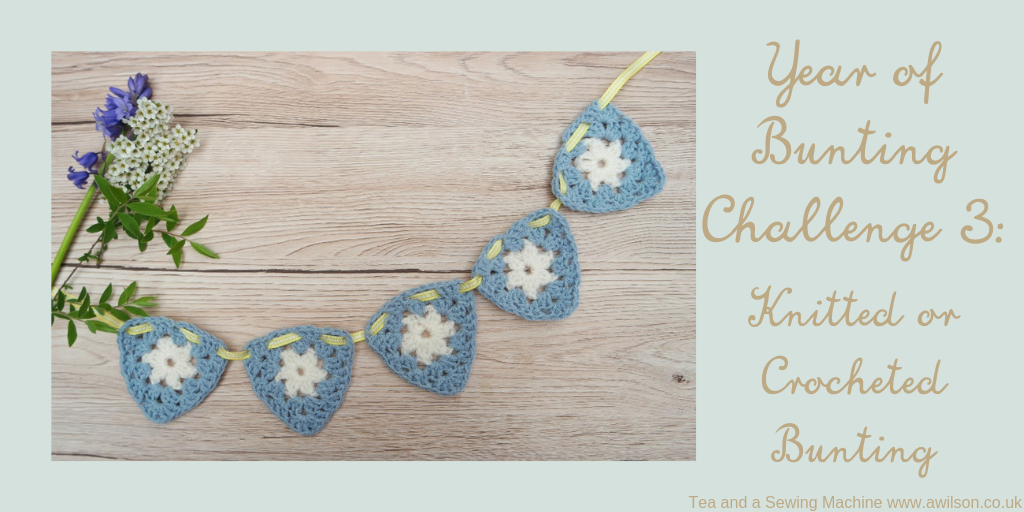 Year Of Bunting Challenge 3: Knitted or Crocheted Bunting
Welcome to the Year of Bunting Challenge 3!
Challenge 2 was to make some bunting embroidery and several people took part.
Hazel made a cross stitched book mark.
Julie made a needle case (she has a craft blog too which you can find here).
Christine made an embroidery hoop hanging with bunting and tassels.
You can read more about what the challenge involved here.
Challenge 3
Challenge 3 is to make some knitted or crocheted bunting.
Since we're already half way through April, this challenge will run until midnight BST on Sunday 12th May.
If you'd like to enter, all you have to do is knit or crochet some bunting, then either post it on Instagram or Twitter using the hashtag #yearofbunting, or post it on the Tea and a Sewing Machine Facebook page.
If you don't do social media, you can email me a picture instead at teaandasewingmachine@gmail.com.
Tips and Ideas
If you're stuck for ideas, here are some that might help.
You could use up odds and ends to make stripy bunting.
If there's a stitch you particularly enjoy, you could make triangles featuring that stitch.
For crocheted bunting, you could make the flags either by crocheting rows, like knitting, or by crocheting in the round.
Crocheting in the round is a good way to make bunting if you want to start with a flower in the middle.
Another option is to make the flags, then add your design. You could embroider it or add knitted or crocheted details.
Some Tips
If you find that the edges of your knitted triangles are not as neat as you would like, try not knitting the first stitch of each row. Instead, slip the stitch onto the the needle, then knit the next one. If you are decreasing stitches, slip the first stitch onto the needle, then knit the 2nd and 3rd stitches together.
To crochet triangles in the round, start off with something that can be divided by 3.
Work out where the corners would need to be. Into those gaps, you'll need to crocheted 2 groups of stitches. Into the other spaces, crochet one group.
For my crocheted bunting, I made a flower with 6 petals. Into the first space between the petals, I crocheted 1 group of trebles, then into the next space I crocheted 2 groups of trebles.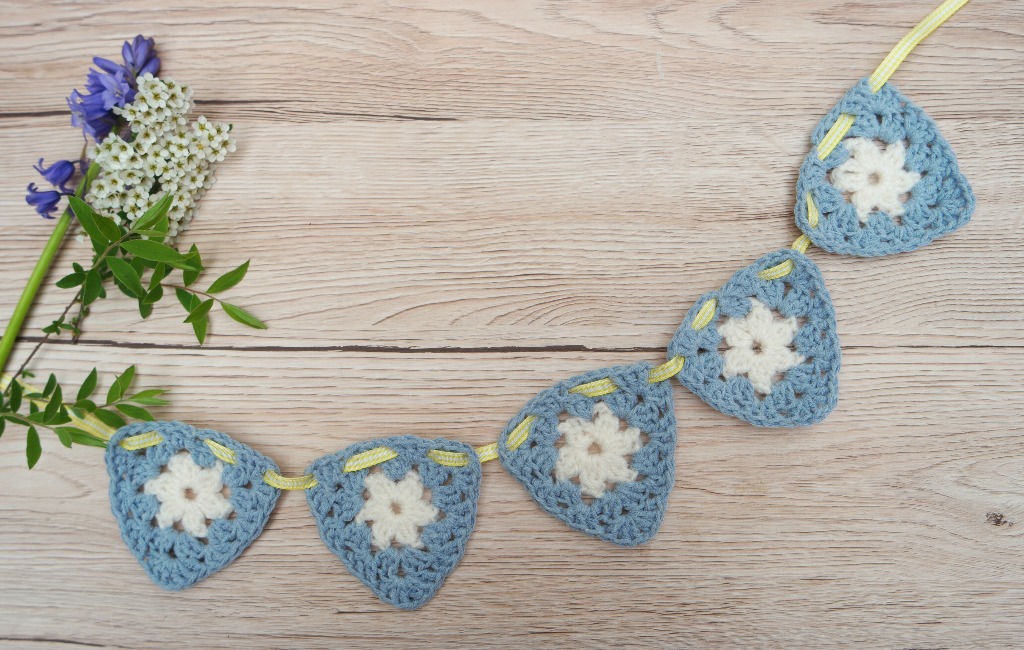 When that round was completed, I had 3 lots of 2 groups, and 3 lots of one. The groups of 2 made the points of the triangles.
So when I went round again, I crocheted 2 groups into the spaces at the points, and one group into each of the other spaces.
If you'd like some more inspiration, then please take a look at my bunting board on Pinterest.
I'm hoping you'll join in!