A while ago I was experimenting with making little lined purses. I wanted them to have zips and also be flat at the bottom so that they would stand up on their own.
Some gorgeous lace zips caught my eye so I decided to combine the two to make a lined flat bottomed purse with a lace zip. This is the result!
I bought the zip from Plush Addict and the fabric from Fabric Rehab.
If you would like too use my template you can download it here: little purse pattern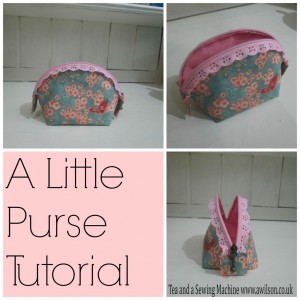 How To Make a Little Purse With a Lace Zip
You will need: 1 fq for the outer, 1 fq for the lining (fat 8ths would be big enough), fusible interfacing (optional) 1 20 cm lace zip, sewing machine (optional), needle and thread.
Seam allowances are 1 cm.
1. Using the template (you can download it here! little purse pattern), cut 2 from the outer, 2 from the lining and 2 from interfacing.
2. If you are using interfacing, fuse it to the wrong side of the outer pieces.
3. Take the outer pieces. With the right sides together, sew the straight edges together.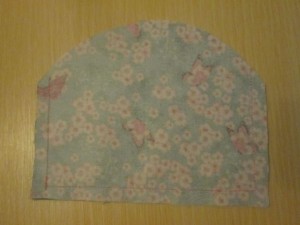 4. Do the same with the lining, except this time leave a gap in the middle of the bottom seam. Trim seams.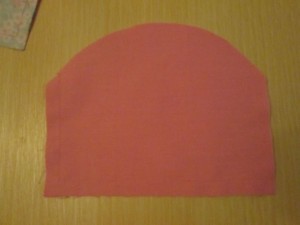 5. To make the bottom of the purse flat, the corners need to be squared off. To do this, squash the corners flat so that the seams are together. Measure 3 cm up the seam from the corner and pin.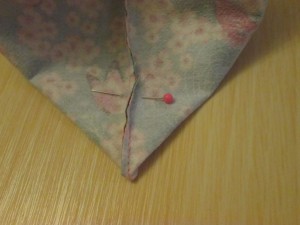 Sew across at right angles to the seam.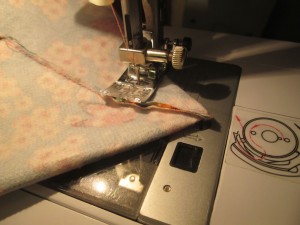 Trim. Do this for both the outer and the lining.
6. Put the lining and the outer with the right sides together.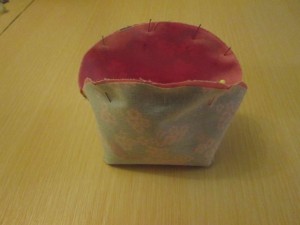 Sew around the curved edges.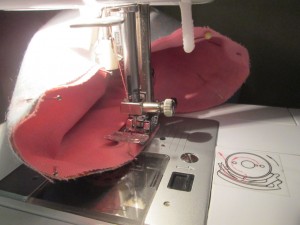 Trim seam and clip the curves. Turn out.
7. To make tabs for the zip, cut 2 rectangles from the outer fabric measuring 5 cm x 7 cm. Fold in half lengthways to find the middle. Fold the raw edges into the middle.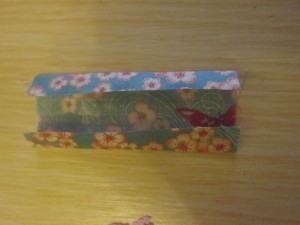 Fold in half widthways. Lay the zip on the top half.
Fold the other half up so that the end of the zip is covered. Fold the raw edges under and pin in place.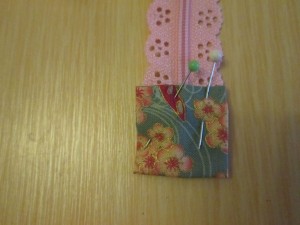 Sew across the top of the tab.I sewed across it twice because I think two rows look better than one :).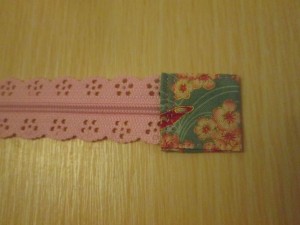 8. Open the zip. Pin one side of the zip to one side of the purse opening.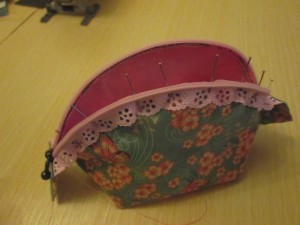 Top stitch the zip in place. Repeat for the other half of the zip.
Here's the finished purse!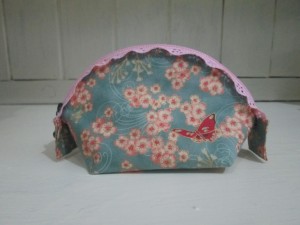 I'm participating in these linky parties!
I'm also joining in the February Blog Hobnob.