5 Best Places to Buy Fabric Online in the UK
There's such a huge choice when you want to buy fabric online that it can be difficult to know where to start.
What kind of stuff do they sell? Is it just quilting cottons or do they sell dressmaking fabric too?
Do they sell haberdashery or will I have to get that from somewhere else?
How quickly can I get it? Do they have a first class option if I need something in a hurry?
Will they ship to me if I live outside the UK?
If you live somewhere with a good, independent fabric shop, then it's a good thing to support local businesses. These places are often run by people who know about fabric and sewing and are usually very helpful.
But if you live a long way from a decent fabric shop, the answer might be to buy fabric online. And online fabric retailers are often small independent businesses as well!
The fabric shops I've listed below are all ones I use myself.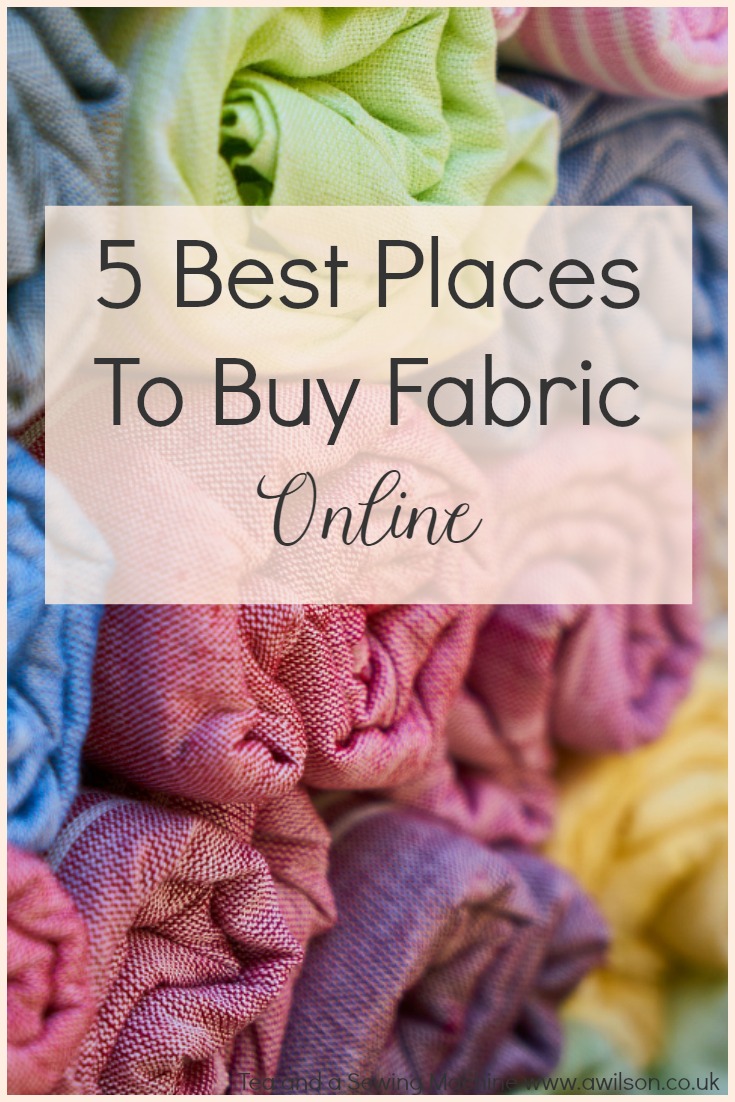 Plush Addict
Plush Addict is currently my favourite place to buy fabric online.
It was started by a mum who wanted to buy waterproof fabric so that she could make reusable nappies for her baby. When she found that she could only get it wholesale, she decided to start a shop online as there were probably other parents out there who wanted to do the same thing.
It's moved on from selling nappy making stuff and has a huge range of quilting cotton, with a selection of dressmaking and upholstery fabric as well. They also sell haberdashery.
The site is easy to navigate with clear categories and a search bar.
They operate a points system, where you gain points every time you buy something. When you have enough points you can exchange them for money off an order.
Postage is free for orders over £40 and there's a choice of 1st or 2nd class delivery. They also ship internationally.
The turnaround time is fairly quick, and they've worked at making it faster. If I buy something from them on Monday lunchtime, I will usually expect to have it by Wednesday if I choose the first class option.
The best thing about Plush Addict, as well as the huge choice of quilting fabric, is their customer service. If you need colours to match, they'll happily help you and there's even a box to fill in if you need this when you order. I have bought stuff from there and they've been happy to match fabrics or bias binding.
Minerva Crafts
(These links are affiliate links, which means that if you click on them then make a purchase, at no cost to you I am paid a small amount)
If Plush Addict don't have what I need, or if I want to buy dressmaking fabric or something out of the ordinary for making superhero costumes, like gold lycra, then Minerva Crafts (affiliate link) is usually the place I look next.
They have a huge range, which has been significantly added to over the last year or two.
Now they not only sell dressmaking fabric and stuff for making weird costumes, they have a good range of quilting cottons and a huge haberdashery section. They've also started selling stuff for jewellery making and papercrafts.
The yarn selection is also huge.
They have good customer service and will colour match things if you need them too. There's also the option to buy coordinating thread.
The downside of this is that orders take longer to process, although this has improved a lot over the last couple of years.
There are 3 delivery options, plus they ship internationally: Royal Mail 48 (2-3 working days), Royal Mail 24 (1-2 working days) or Parcleforce (next day delivery). Royal Mail 48 delivery is free on orders of £20.
If I order something from them on a Monday lunchtime and pay for the standard delivery (or qualify for it free!), I would probably receive it on the Friday. If I upgrade to Royal Mail 24, it would probably arrive on the Thursday.
If you're not in a hurry, Minerva Crafts is a good place to get sewing stuff. The selection is so huge that if you need it, they probably have it. And it's very easy to spend £20 and qualify for free postage!
At the moment, Minerva Crafts have a 25% off sale on their quilting cottons with the code Quilting25.
Eclectic Maker
Eclectic Maker have a huge selection of quilting cottons by a variety of designers. They also sell haberdashery and sewing machines. Classes are held at their physical shop, which is located in Worthing on the south coast.
They often hold giveaways if you sign up for their monthly newsletter, and they're currently in the process of adding a free patterns section to their site.
All purchases are sent out by Royal Mail 24 and is free for orders over £45. They also ship internationally. If you need it quickly, they also offer special delivery, guaranteeing delivery by 1pm the next working day (providing you order before 1 pm).
I've only ever used the standard delivery, and in addition for the huge choice of beautiful fabric, this is the best thing about this store. Their turnaround time is extremely quick. I have bought something at lunchtime to have it arrive the next day.
Maggie's Fab Fabrics
The last 2 are actually Ebay shops. Ebay can be a good place to buy fabric. Unfortunately sometimes photo quality isn't all that good and it can be difficult to work out colour and weight of the fabric. I have bought fabric from Ebay that wasn't very good quality, or where the colour turned out to be not what I was expecting.
Also things often take a while to arrive, as sellers like to offer free postage so will send it the cheapest way they can. If I buy something from Ebay on a Monday, I would not expect to get it before Thursday, and it would probably be later in the week.
However, if you're looking for something unusual and you know what it is that you need, Ebay can be a good place.
It can also be a good source of zips and other bits of haberdashery, especially if you don't need them urgently.
Maggie's Fab Fabrics has a good selection of wool fabrics and also suiting, shirting and canvas. I bought the fabric for this coat from Maggie's Fab Fabrics. It's Scottish wool and it was £5 a metre! If you're making a coat or  a warm skirt or something else for the winter, it's a good place to have a look.
The Little Fabric Bazaar
Also on Ebay, The Little Fabric Bazaar has a large selection of fabric.
My main reason for choosing this Ebay shop is because they sell a good range of reasonably priced waterproof fabric. There's a nice selection of patterned ripstop as well as oilcloth.
This is where I bought the fabric for this bag.
The fabric is sold by the half metre, so there's no need to by lots more than you actually need.
So these are my favourites! What do you think? If you have a favourite place to buy fabric, you can mention it in the comments :).