Here is a crafty person's gift guide! Perhaps you are wondering what to give the crafty person in your life, or maybe you are that crafty person and people keep asking you what you want for Christmas and you have no idea. Here is a list of 18 suggestions.
They will mostly suit people who sew and/ or knit or crochet, but some of the suggestions are good for people who enjoy other crafts too.
This post contains affiliate links.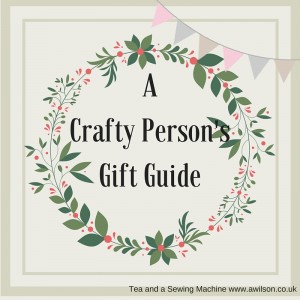 A Tailor's Dummy or Dress Form. Having one of these can make things much easier, especially for somebody who likes to make clothes without using a commercial pattern. Even for people who do, pinning a hem is very difficult to do on yourself. Being able to hang it off a dress form means you don't have to rely on your husband to help you and then end up with a wonky hem.
The adjustable kind are best but they are pricey.
.
The non adjustable kind are cheaper.

1. Decent Scissors are a necessity for cutting fabric. These are the ones I use and they cut through fabric like a hot knife through butter.
Having a good pair of sharp scissors for trimming threads (and yarn) also makes making easier. There are sets available with one pair of large scissors and a smaller pair.
There are others that are cheaper, but the Fiskars scissors are good ones.
2. Glass Headed Pins. Cheap pins are a nightmare, resulting in snagged fabric, pulled threads and holes that won't go away. Pins with bobbles on the ends are easier to use, but plastic bobbles melt if you accidently iron them! I've lost count of the number of times I have done this. Glass headed pins are easy to use, easy to spot and don't melt.

3. A Pin Cushion. Having recently read a scary article about somebody who had to have major surgery after she accidently inhaled a pin, a pin cushion is a much better option than putting pins in your mouth, It's also the kind of thing that it doesn't matter if you have a few of these. Here is a magnetic pin cushion so you don't lose them off the table while you're making stuff.
This handy one can be worn on the wrist
.
4. A Sewing Set. Husband bought me one like this from either Aldi or Lidl (I get them mixed up!).
The great thing about this is that the stuff in it is useful, even if somebody already has some of it. Sewing machine needles break, pins and safety pins get lost, and you can never have too many seam rippers!
5. Dressmaking The Complete Step By Step Guide.
This is one of my favourite craft books and you can read my review of it here. It is a mine of useful information whether you sew using patterns or if you want to try making stuff without.
6. Gertie's Sewing Books. These are great books for anybody who likes stuff from the 40s and 50s. I have Gertie Sews Vintage Casual, and the instructions are clear and easy to follow. Also Gertie looks like she actually eats (ie like a normal person, not a skinny model!) which means that stuff is more likely to fit because it has been designed with normal bodies in mind
.
7. A Bundle of Kona Solids. Not just for quilters! Solid colours are useful for lots of projects and the Kona ones are good quality fabric, so equally fine for clothes or bags. These bundles (and several others) can be found on Plush Addict.
8. Nice Crochet Hooks. I have these brightly coloured ones.
Otherwise these ones with ergonomic handles would make a nice gift.
Or These bamboo ones that come in a fabric case
.
9. Hand Dyed Yarn. Obviously this is going to cost more than your average ball of yarn, but so beautiful! What knitter or crocheter wouldn't love these? I found these on Etsy, in a shop called Spinning Streak.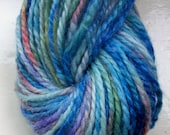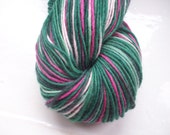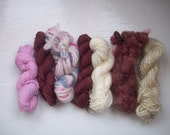 10. Crochet/ Knitting Accessories Set. Useful, and as with the sewing bits set, stuff that either gets used up or lost. There are cheaper sets than this, but the reviews were not so good.
11. Happy Hands Hand Cream. Dry hands are a nightmare when you are crocheting or knitting and the yarn keeps snagging on dry skin. Lots of ordinary moisturisers leave your skin greasy, but no one wants greasy stuff all over their work! Happy Hands hand cream leaves your hands soft without making them sticky or greasy. You can visit their shop here.
12. Handmade By/ Handmade With Love Ribbon. An inexpensive gift for somebody who makes things to sell or things to give to other people.

13. A Bag For Unfinished Projects. I could do with about 8 of these! Some have more pockets and places for storing hooks or needles. Others are more like large bags for storing works in progress. Some have co-ordinating accessories as well
.
14. Pretty Boxes or Tins. Lots of crafty people are naturally messy, but it can make it difficult to find stuff. If somebody has out of control craft supplies, some pretty storage might be just what they need! Even if they don't, they'll probably be able to put a pretty tin or 2 to good use.
15. Gift Vouchers For Their Favourite Craft Shop. My favourites are Plush Addict and Fabric Rehab, both of which sell gift vouchers.
16. A Craft Kit. Craft kits make great gifts for beginners and more experienced crafters alike. You can take a look at my craft kits for sale here.
17. A Kit For a New Craft. Sometimes it's fun to try a new craft. Felting is good one try as the wool rovings are lovely to work with and it's easy to get good results.
Another craft that's good to try is making lampshades and kits can be bought for these.
18. A Crafty ECourse. This is a nice option if somebody already has a lot of stuff and you don't want to add to it! For somebody who is a beginner crocheter, the might like my ecourse that starts in January, The Ultimate Guide to Crochet Stitches. You can find out more here!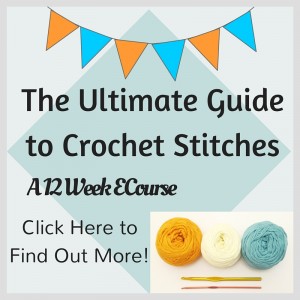 I hope that's given you some ideas, whether for things to buy for other people of stuff for people to get for yourself. If you are related to me and reading this, 3, 7, 8, 9, 11 or 15 please ;).