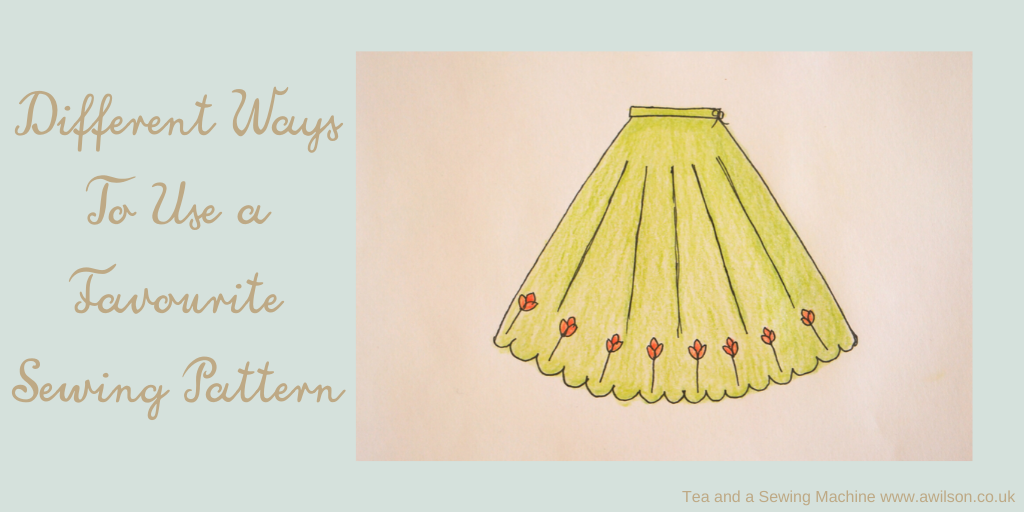 It's no secret that I love circle skirts! They suit all body shapes, they're easy to make, and although I mentioned patterns in the title, I never use a pattern to make one!
When I was having a tidy up the other weekend, I found some fabric I'd bought to make another circle skirt. I'd intended to make it for our trip to Japan, then we couldn't go and I didn't make the skirt.
But last week I did, and here it is! The lining is flannelette (perfect as April has returned to Norfolk even though it's June!), and the floaty layer is cotton voile.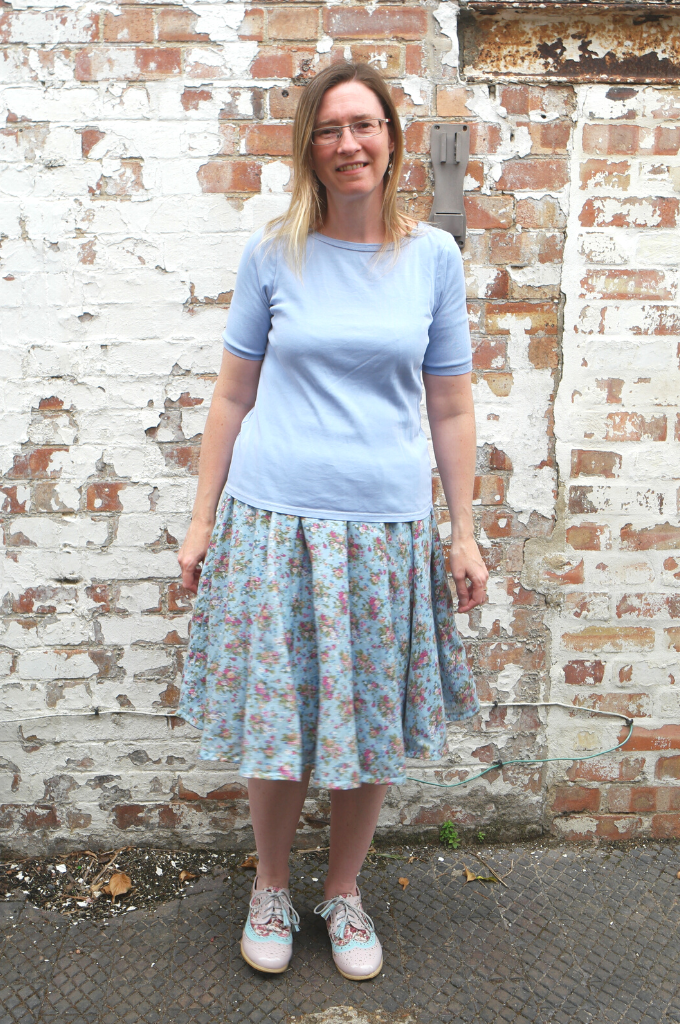 I have a lot of circle skirts, in total probably half a dozen, not to mention several dresses that are circle skirts with a bodice added.
It's tricky when you find something you like to not end up feeling that you're wearing the same thing all the time. A cotton knee length circle skirt is perfect for summer. But what can you do to vary things a little bit? And what about when the weather gets colder and you still want something pretty and swirly to wear?
Something I've found with my pretty skirts is that it's easy enough to change things up a bit, so that you are wearing things you like that suit you, but not things that all look the same.
The suggestions I've made below apply to circle skirts in particular, but most of them could be used with any favourite pattern.
And if you have an idea that I haven't included, please share it in the comments!
If you haven't made a circle skirt before and you want to have a look at a tutorial, there's one here.
Change The Fabric
This is the easiest thing to do if you want to use the same pattern but end up with something that looks different.
Most of my circle skirts are made from cotton print, but I have others made from different fabric too!
You could try:
Wool
Flannelette
Silky fabric or taffeta
Tulle
My favourite winter skirt is this one made from a wool blend. I added a lining so it wouldn't be itchy.
I've also got one made from flannelette that I wore in the spring with pink tights and pink shoes. It's so nice to be able to have a pink day even when it's chilly out!
The one I made last week can be worn in colder weather too as it has a flannelette lining.
Making a version in a shiny fabric like this one in a silky fabric, or from taffeta can make it look very different and suitable for wearing if you need to get dressed up.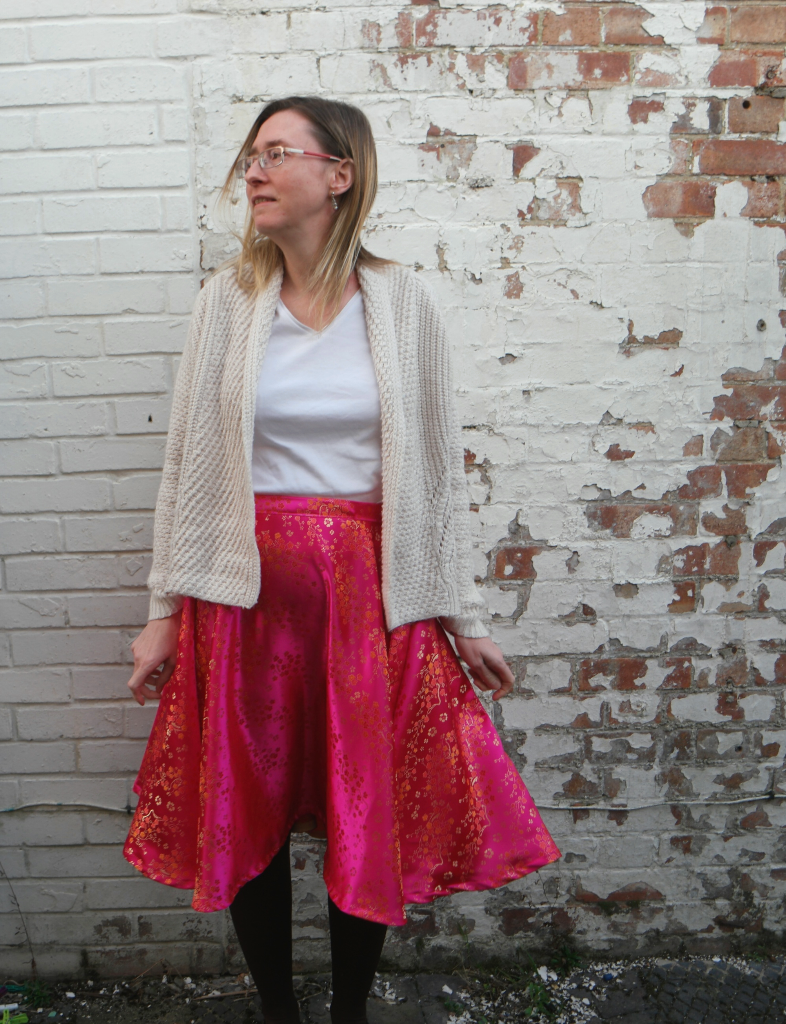 I've made several from tulle, including this pink one which is the envy of 4 year old little girls everywhere I go! I cut 5 circles from tulle, plus one from lining fabric and sewed them to an elastic waistband. The tutorial is here.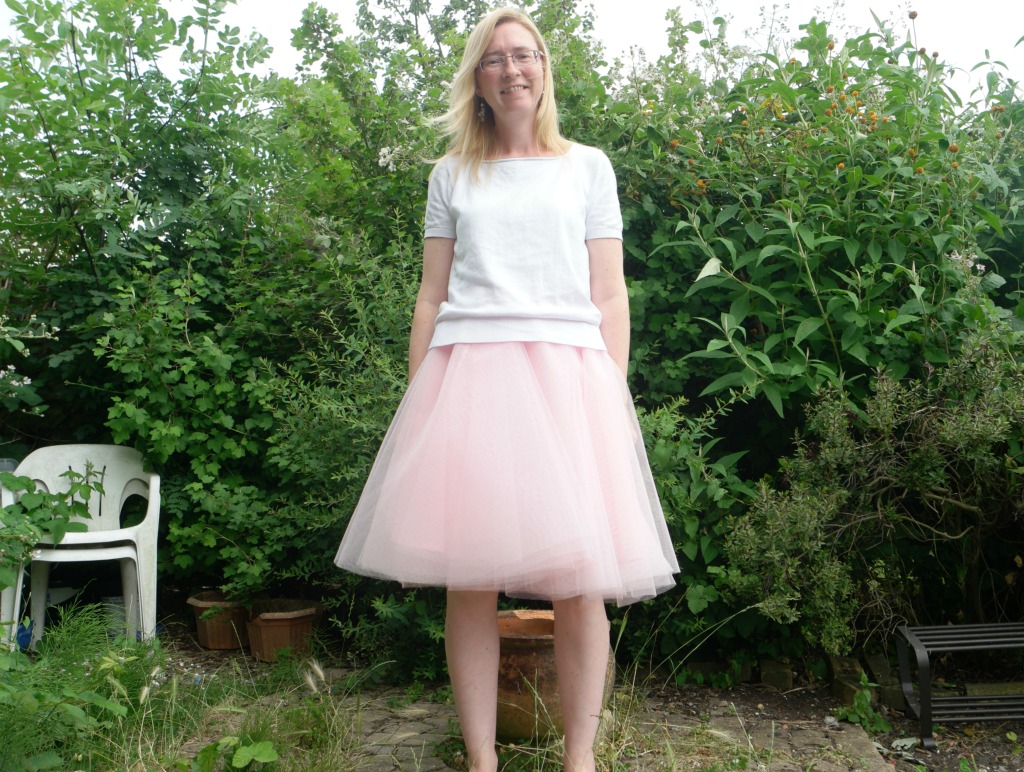 Even swapping prints for plains or the other way round can make achieve a different look, or by substituting pastels for richer or deeper colours.
Try Adding Some Net or a Foofy Petticoat
I've sewn a net layer into a circle skirt made from voile. I also have a foofy petticoat that I wear with my pretty skirts sometimes. It turns them from being normal ish nice to extra nice!
With a pair of heels it can be enough to wear a pretty circle skirt with a foofy petticoat and you've got an outfit for a wedding or another special occasion!
Add a Bodice
This is easier than you'd think!
The first time I tried this, I needed something to wear for a wedding and I didn't have very long. So I had to keep it simple. The bodice was made from 2 pieces, with some darts. I didn't bother with sleeves. The result was my cherry blossom dress which I have worn a lot! I've also made several other versions of the same thing, and it was this style of dress that we made in the sewalong 2 years ago.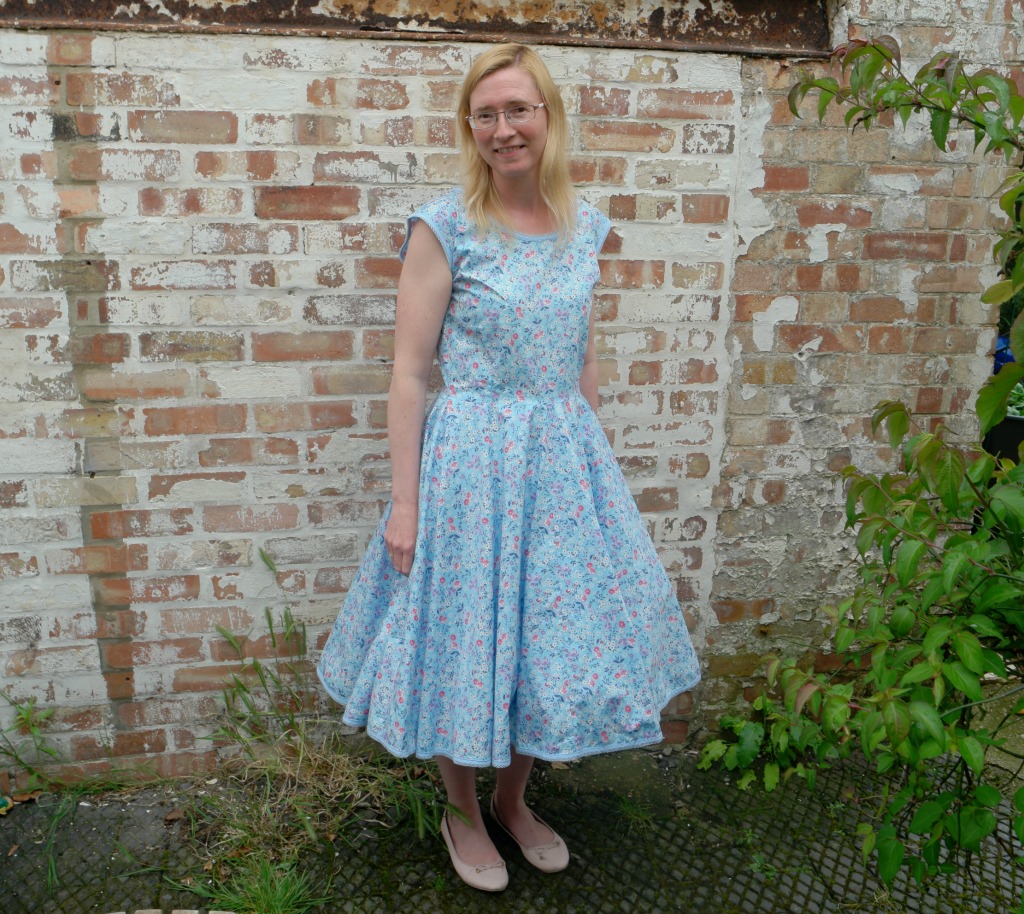 Changing an existing pattern drastically can feel scary, especially if you're doing it all yourself without a pattern. But if you have a look at the clothes in your wardrobe, it's usually quite easy to figure out how they have been made. You can even take things apart and use them as pattern pieces!
Having a dress form helps as well, but even if you don't, you can try pinning pits of fabric to yourself and seeing how you can get them into something that looks a dress.
I wrote a post about drafting a bodice here, which describes the same process that I use myself.
Change What Goes On At the Waist
This can give a circle skirt a different kind of look too.
Usually I sew a waistband in this way, or I use elastic.
You could add a bow, a ruffly flower or ties.
Waistbands are often made from the same fabric, but you could use a contrasting fabric, maybe a print with a plain or the other way round.
Add Contrasting Sections
This is one of the things that I haven't tried yet although I'd like to!
Probably the easiest way to do this with a circle skirt is to swap 2 of the quarters with a different fabric. Or you could cut the quarters in half to make eighths.
Another option would be to cut a chunk out of the top section and add a piece the same size in a contrasting fabric. Or you could do this at the bottom, but you'd need more fabric!
Add Applique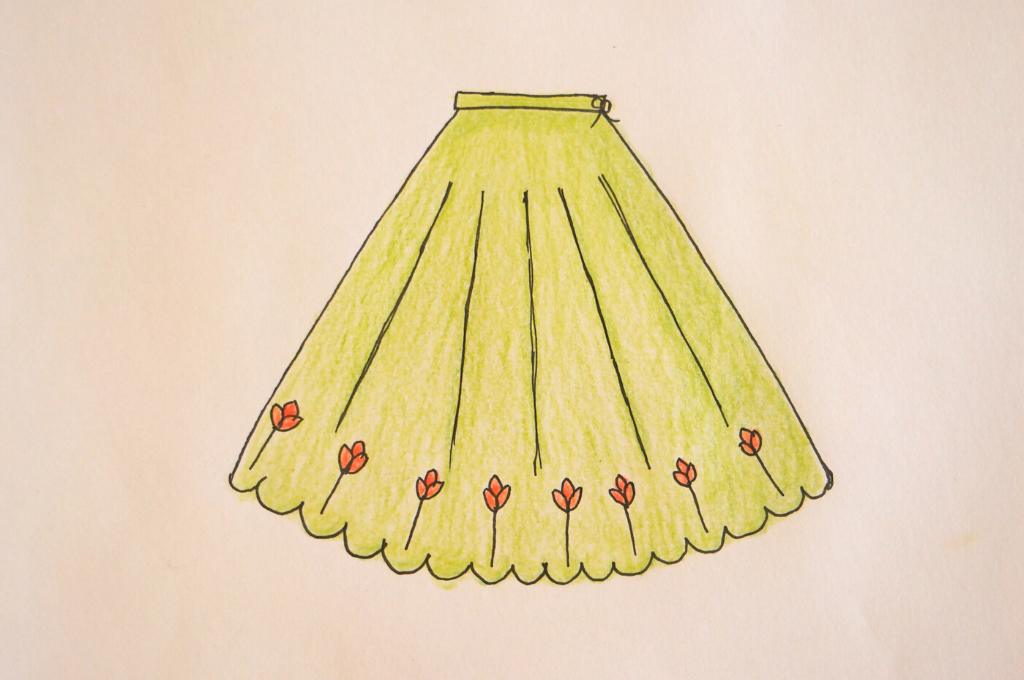 One of these days I'll make this! It will have huge appliqued flowers at the bottom.
I also started making a Bob Ross dress. I ran out of steam before I'd done the back! It's a circle skirt with a bodice added, and the whole thing is in the style of a Bob Ross painting.
Change the Shape of the Hemline
The hemline on a circle skirt is obviously a circle, but it's easy enough to change it.
One option is to make one that's a square instead.
If you're concerned about it being too short in some places, you could cut 2 squares and overlap them.
Another possibility would be to cut across front of the hem in a straight line.This would give a hemline that is longer at the back and the sides.
Or you could cut upwards from one side to the other, to give it an asymmetric hem.
Another way to change the hemline is to sew a scalloped hem. To do this, it's probably best to make a pattern piece for a quarter of the skirt so that you don't get into a muddle with the curve.
Change the Length
This is another easy way of making something look quite different! You could try anything from from very short to very long, but even changing something from knee length to mid calf, especially if you change the fabric too, can make the same design look very different.
Add Layers
This works best with very light weight fabrics.
To make a tulle skirt, you'll need several layers, but you could also try layering voile or something else floaty. You could add net or tulle layers, or if you are making one with a square hemline, you could try a couple of layers that overlap at different angles.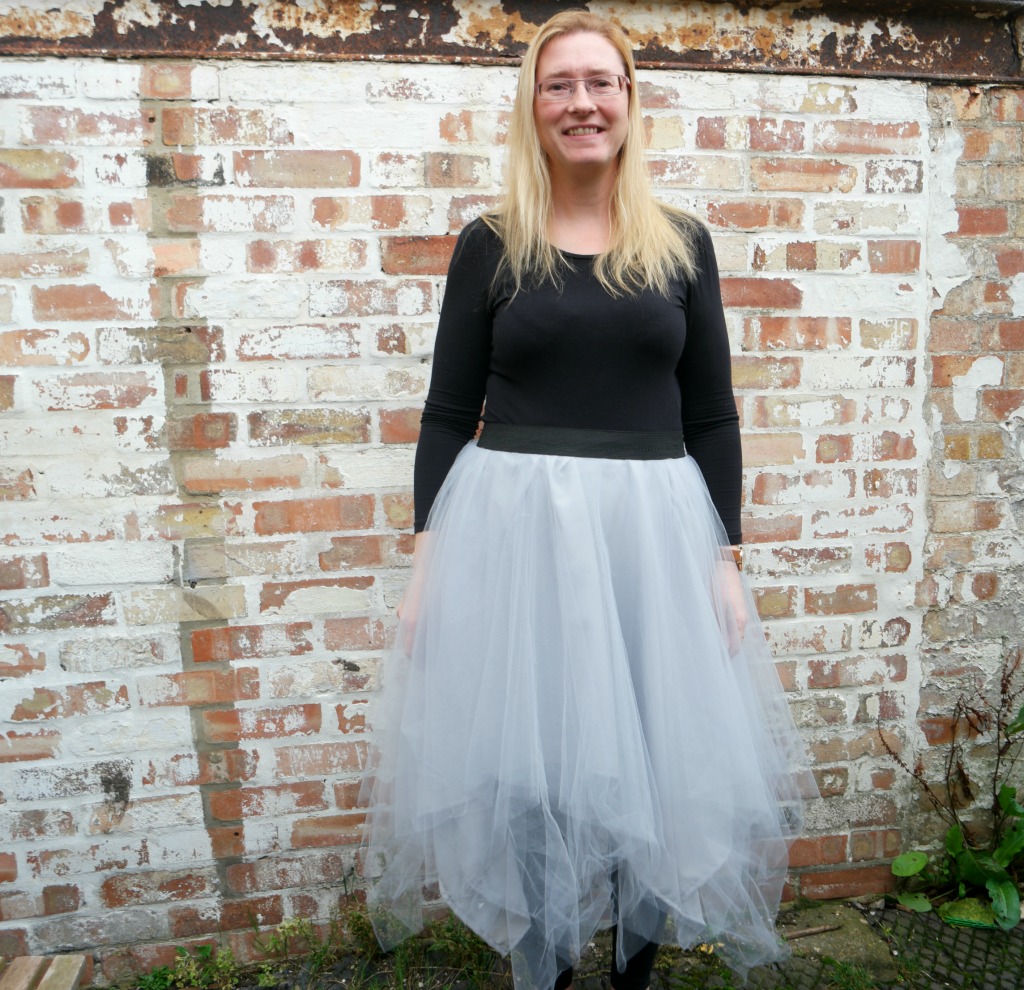 Make a Wrap Version
All you need to do for this is add an extra panel so that it will overlap. A couple of buttons will hold them together and you could add extra sections the waistband to make ties.
Add Pockets
I have major issues with the lack of pockets in women's clothes! But when you make your own, it's easy enough to add pockets at the side seams.
You could go one step further and add patch pockets. You can use them to add interest as well as somewhere to keep your phone! Try them in a contrasting colour, or applique a design to them.
Change What You Wear With It
A blouse will make it smarter, a t shirt is more relaxed. A foofy petticoat will make it fancier, as will smarter shoes. A cardi and a pair of tights will make it warmer. You could even wear a long sleeved thermal top under your favourite summer t shirt and pair of boots with your summery skirt.
Do you have a favourite pattern? What do you do to change it up?